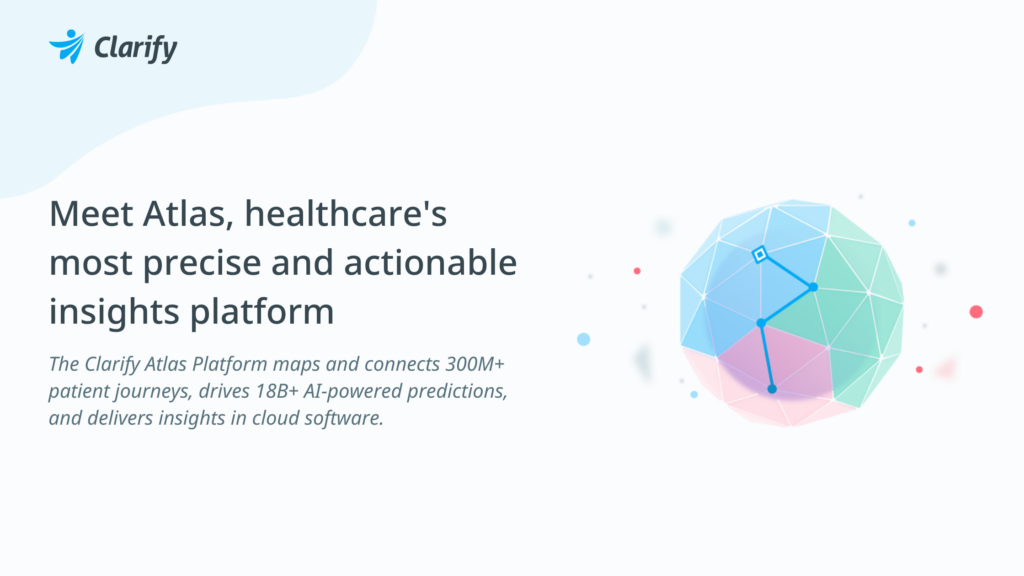 Clarify Health introduces Atlas, the insights platform that answers healthcare's most complex business questions in an instant.
The Clarify Atlas Platform maps and connects 300M+ patient journeys, drives 18B+ AI-powered predictions, and delivers insights in cloud software. It puts on-demand business intelligence at the fingertips of providers, health plans, and life sciences companies with speed and precision so they can break free from the inefficiencies of legacy analytics in healthcare and life sciences. It allows Clarify's customers to explore novel ways to personalize care, support clinical decision making, and establish real world evidence.
"Atlas harnesses the power of our collective health data to chart the path our customers take to optimize and personalize the journey of every patient," said Jean Drouin, MD, CEO, Clarify Health.
Clarify's President, Todd Gottula commented today: "We've succeeded in bringing the big data efficiencies of the banking industry to healthcare to make Atlas the industry's most configurable and scalable insights platform. I'm proud of the Atlas leadership team, including Clarify's Chief Platform Officer, Emmet Sun, Chief Technology Officer, Justin Warner, and Chief Data Officer, Erik Talvola, whose ingenuity is helping patients get more personalized care and have better outcomes." Sun, Warner, and Talvola, along with Gottula, are the technical architects behind the Clarify Atlas Platform, and members of the company's founding team. They pioneered building a financial services grade tech stack for healthcare journey insights. Today, Clarify's cloud applications for analytics in healthcare and life sciences deliver an exceptional customer experience and return on investment, contributing to 40% higher Net Promoter Score (NPS) than the industry average.
Read our press release introducing Atlas here.