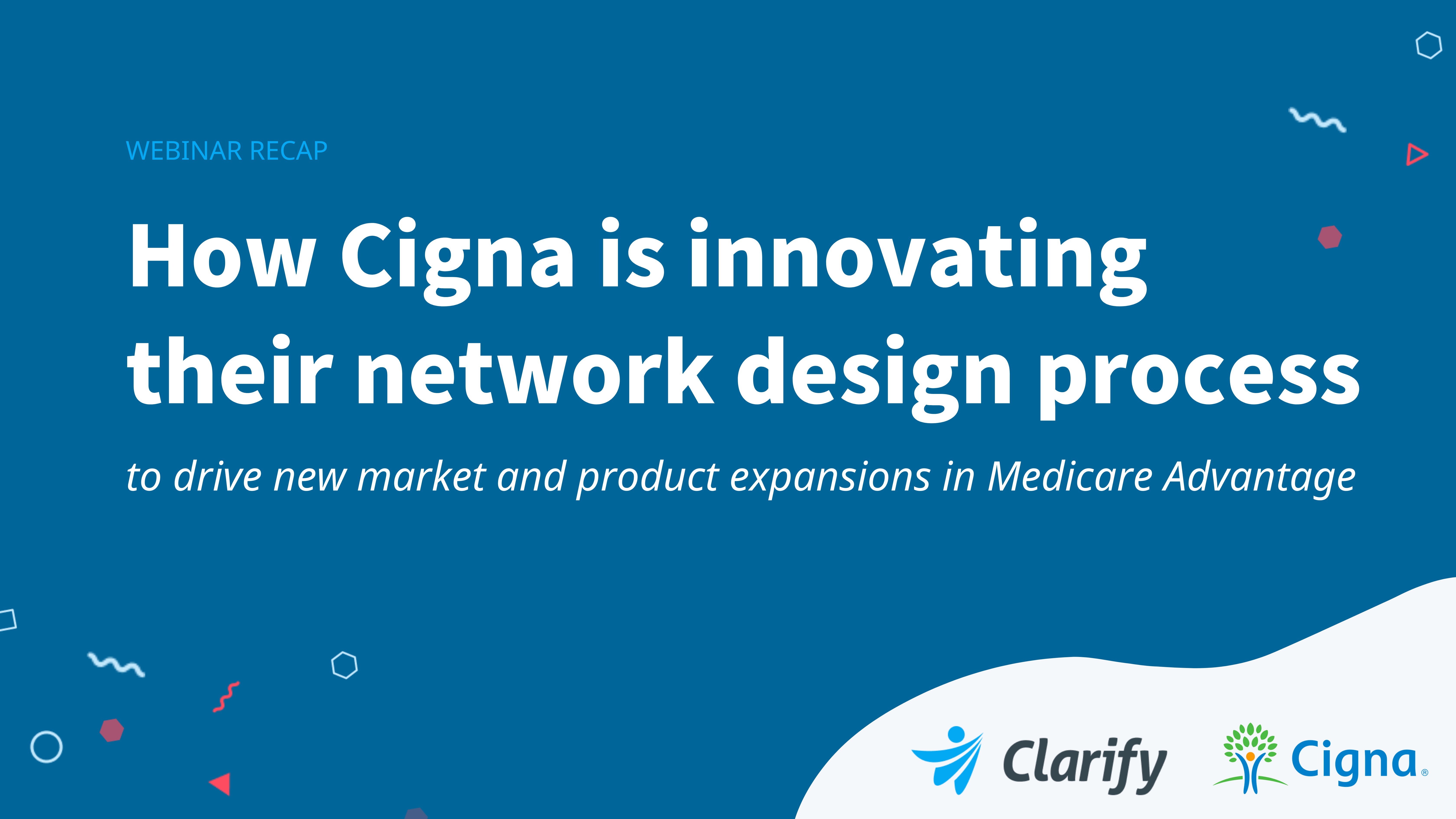 On December 16th, we hosted an AHIP webinar discussion about how Cigna is innovating their network design process for market expansion. Health plan experts from Clarify Health, Dr. Jegar Jasani and Chuck Feerick, interviewed two leaders from Cigna, Austin Scott and Blake Amos. Austin has spent the last eight years at Cigna with responsibility for medical economics and analytics, leading the transformation of data and analytics for their government business segment. Blake is the director of expansion strategy and execution at Cigna Medicare. He has worked at Cigna for eight years and currently leads the overall strategy and execution of their Medicare Advantage new market and product expansions. Jegar is vice president and head of payer solutions at Clarify Health, and Chuck is the director of payer solutions. These four experts have been working closely to transform how the Medicare group at Cigna approaches network design. More than 250 executives from health plans across the country tuned in to the webinar to learn about Cigna's innovative strategy for network expansion.
Jegar started the discussion by asking:
Why are network design and management important to health plans?
Sustainable growth:
Strong network design is critical to health plans successfully expanding into new markets and growing new lines of business.
Meeting member needs:
A good network has to be a soluble network – this is a core part of product design to ensure your network is not just adequate but also competitive for attracting and retaining members.
Healthy populations:
A solid network is the tip of the spear in managing health care quality and cost. Partnering with the highest value provider sets you up to deliver the best care, manage your MLR, and ultimately, ensure the affordability of your products.
Why does good network development matter to Cigna?
For Cigna, good network development is critical for growing their business and expanding confidently into new markets. A few years ago, Cigna identified Medicare Advantage as one of the key growth platforms for the enterprise.
In 2020, Cigna enacted two of its largest expansion efforts in the company's history.
In 2021, that will include 67 new counties in five new states and aggressive expansion of their PPO footprint. With this type of growth, good network development is critical, as their goal is not just to plant flags to say they entered these markets. They are looking for markets where they have a "right to win" and where they can be competitive. But, if they fail to build high performing networks, the likelihood of missing the mark is very high.
As Blake said, "expansion in Medicare Advantage is not for the faint of heart. Going into a market with zero members is very challenging, and it's a significant up-front investment. However, if we are able to build high performing networks, it can drastically increase our odds of being successful long-term." Blake also noted that if their new network is able to effectively manage costs and utilization and perform well on quality measures (which helps with star ratings), it gives them the ability to offer competitive benefits and grow at a faster pace, all while being financially viable.
While Cigna initially adopted this strategy for expansion, they also believe it is critical for the performance of their existing networks. For Austin, it is crucial to have a clear definition of what a high-performing network is and to keep the end state in mind. He asks himself,
"how do I improve customer experience, quality, and efficiency of the network? And how do I align Cigna with the right providers who are willing to work toward these goals with us?"
How do you define a high-performing network?
For Austin, it varies by market. There are certain metrics that apply across the board, but you need to deeply understand your target market, the types of customers in that market, the utilization patterns, and who you can partner with in order to determine what the best design would be for that marketplace.
You also want to have specific goals for your high-performance network. Are you targeting reduced readmissions, specific medical conditions, or waste reduction? If a health system has the capability to deliver better care for a certain disease state, there are ways to capitalize on those capabilities. As you're developing your network goals, you're also developing why you need each of these measures and what the outcome of that measure looks like. Have a clear idea of what success looks like, so when you're working with your provider partners you're able to say, "Here's what we need you to do, and here's what we're going to do on our end."
It's also important to think about having a variety of expertise across your network. For example, maybe you can eliminate redundancy by partnering with a specific system or physician. The Cigna presenters commented that in an ideal world,
it's important to create collaborations and work with providers towards a joint goal that benefits everyone in the ecosystem – whether it be higher quality care for patients or lower cost for providers and health plans.
When you're developing a high-performance network, it's important to think about economies of scale. You can leverage technology to better support your network partners. You might want to have an analytics portal that both the health plan and the provider can use to stay aligned, for example.
Finally, it's critical to know how you are going to reimburse for the network's financial performance. Which payment models are going to allow you to create the most benefit in your network? For Austin, it's important to understand the fee-for-service payment methodology and how potential partners are currently incentivized so he can stay aligned with their business goals and make an attractive offer.
How did Cigna's network design process work in the past? What worked and what didn't?
"We didn't have data at our fingertips to truly understand provider-level performance data in markets where we did not have a Medicare Advantage presence." – Blake Amos
While Cigna had highly capable teams dedicated to pulling together all sorts of information to build network strategies, the processes were inefficient, and the insights weren't always actionable. Blake said, "we were living in a lot of spreadsheets, CMS data sets, multiple analytical tools, and oftentimes, it was up to the network teams to be able to make any of this information meaningful and actionable."
Additionally, it was challenging for Blake's team to model networks to ensure they were building cohesive networks. For example, if Cigna identified key anchor provider groups in a targeted market, they had limited ability to ensure that the network they were building also made sense from a referral pattern perspective, especially in a new market where they had no prior experience.
Cigna identified a need to bring disparate information together into one platform to improve the way they evaluate markets and design networks based on cost, utilization, and quality – all while considering the unique characteristics of a specific market. To address this need, Cigna partnered with Clarify Health.
What prompted the decision for Cigna to switch from the spreadsheet-based analytics model to using an advanced analytics platform?
Blake and Austin outlined several reasons for making the switch to an advanced analytics platform to support their aggressive growth trajectory.
They needed deep insights into new markets. Because Cigna didn't have previous Medicare Advantage experience, they needed to know what was happening in their target markets. They identified a need to partner with a CMS Qualified Entity (QE) for access to these insights.
In addition to data, Cigna needed strong case-mix adjusted analytics. For Cigna to acquire the data needed, it would be a monumental lift. It's a massive amount of data – and just having the data is not sufficient. They also needed the ability to assess provider performance, to risk-adjust the data, and to benchmark the data.
They needed answers. Developing these capabilities internally from scratch would take years. Cigna prioritized a partnership that could deliver valuable insights immediately, so the teams could focus on driving action. Austin said, "I mean, I'm sure we could invest everything we've got in this one thing and do it really quickly, but we really thought it made sense to work with someone who's already qualified with CMS to have their data, that's doing this already, and really focus on building an analytic platform that we can all use."
Cigna needed centralized insights. For Austin, it was really important to have a centralized place to execute on their market expansion strategies. Cigna prioritized a platform that could deliver actionable insights across teams with the ability to drill down at a market, geographic, or national level to understand key performance metrics. "What are the performance measures we care about in our business to be able to leverage that data and insight to go out and develop high performing networks in these expansion markets?"
The platform had to be user friendly. As Blake considered Cigna's aggressive expansion strategy and the number of new markets they were evaluating and considering, he knew there would be a lot of different contracting and network teams working on those strategies. So having a scalable platform that is user-friendly was paramount.
What is Cigna hoping to achieve big picture?
Through their partnership with Clarify, the teams at Cigna are getting answers to three critical questions about their new and existing provider networks:
How do we build geography-specific high performing networks at scale?
How do we really determine who we want to partner with sooner rather than later?
How do we want to refine our existing high performing networks?
Is this new analytic approach changing how you're engaging with providers and members?
Blake responded, "We really hope that the insights we're able to gain from this information not only help us in the network design process but also in how we engage and collaborate with providers earlier on. I believe that many providers will improve their performance with the right support when we align incentives, and this data will help us identify where those opportunities exist. From a member standpoint, we do believe that our focus on building high performing networks will lead to both a more positive patient experience, which hopefully we see in CAPs, HOFs, and other surveys that we do internally, but also improved clinical outcomes. If we do this right, we really expect this to be a win-win-win. For the provider, for the member, and for the payer. And that's ultimately what we're hoping to achieve with this work."
Clarify Health and Cigna are partnering to drive high-performance network expansion as a key piece of Cigna's business strategy. To learn more about our work together or to find out how you can leverage the Clarify platform to build, grow, or manage your provider networks, contact us here.