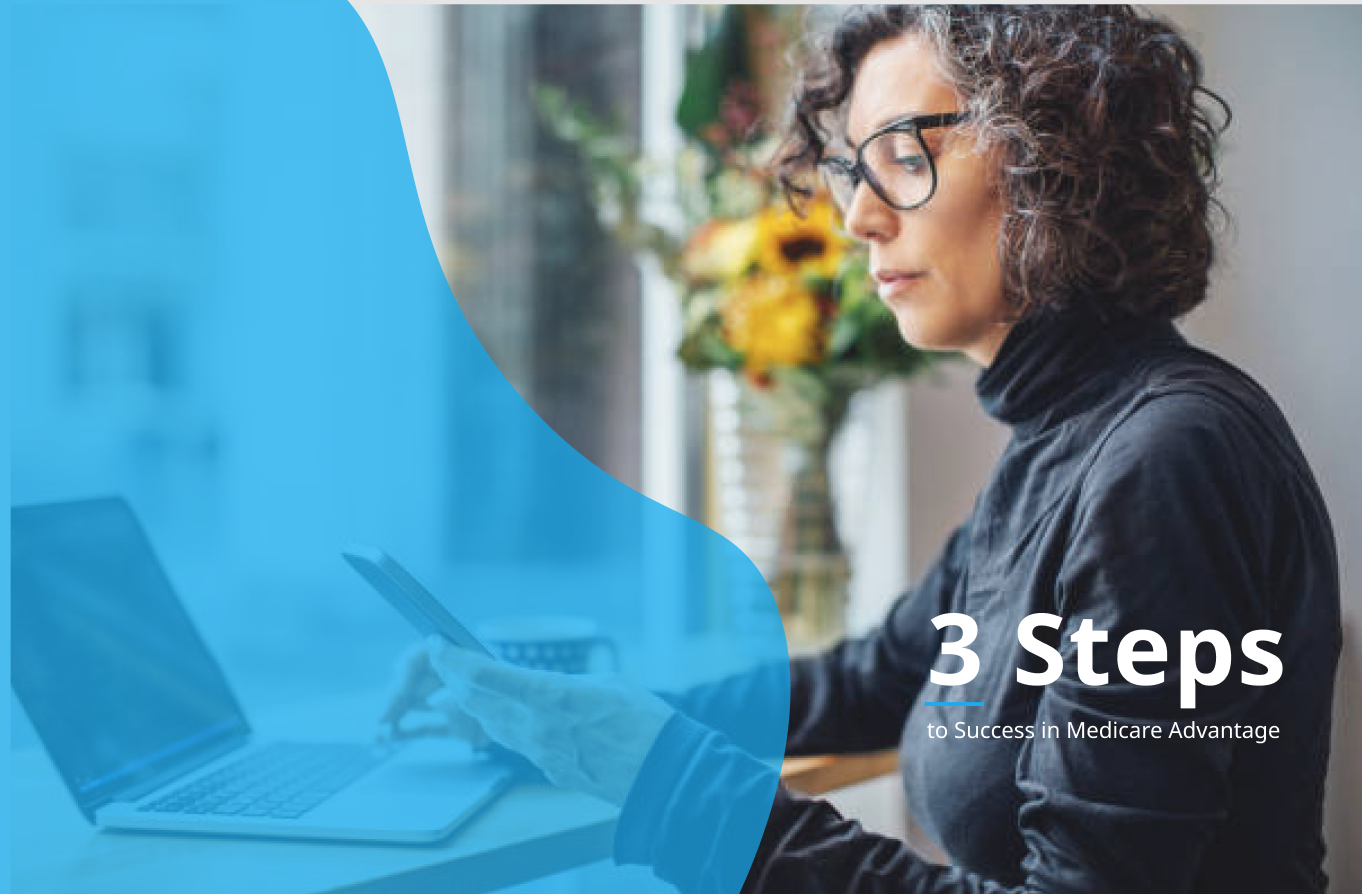 Earlier this year, CMS released its 2021 Medicare Advantage (MA) enrollment file, showing an average of 9% increase in Medicare Advantage plan growth in 2020. A report by the KFF showed average gross margins for MA plans are the highest that they have ever been, increasing by an average of $64 per member per month over 2019 levels.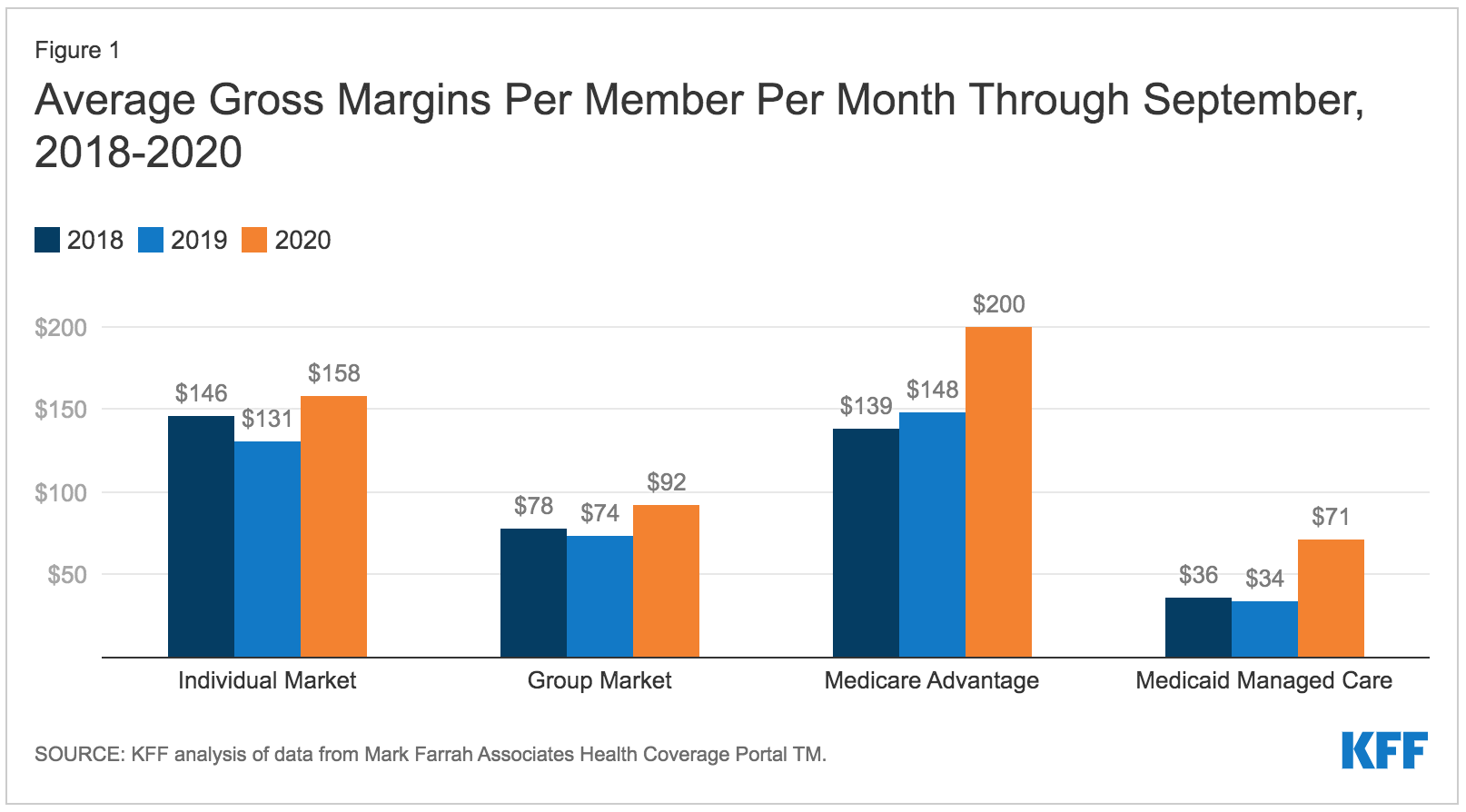 While higher margins may be attractive to many insurers, succeeding in MA markets can be a challenge. As our partner from Cigna said,
"expansion in Medicare Advantage is not for the faint of heart." 
However, if you can build high-performing provider networks from the start, it can drastically improve your odds of being successful long-term.
Whether you are entering a new market or expanding within an existing market, there are three steps to launching and operating a successful Medicare Advantage plan. 
Understand the market dynamics.
Build or edit your provider network.
Monitor the performance of your provider network.
Go deep on market dynamics to ensure your right to win.
When evaluating a target market for expansion, the first thing to ask is, does it make sense to invest in this particular market? Take a data-driven approach to score your market across several dimensions.
For example, you might look at:
Payer mix
Reimbursement rates
Member attribution
Demographics and composition of the market
Build a high-performance provider network from the start.
Once you've identified and evaluated your market, it's crucial to understand the provider performance analytics that matter most to you. You'll want to know how providers in your market perform on cost, quality, and utilization – but you should also consider their referral performance. You might have the best PCPs in the market, but if they are referring to low-quality specialists, your overall provider network performance will suffer.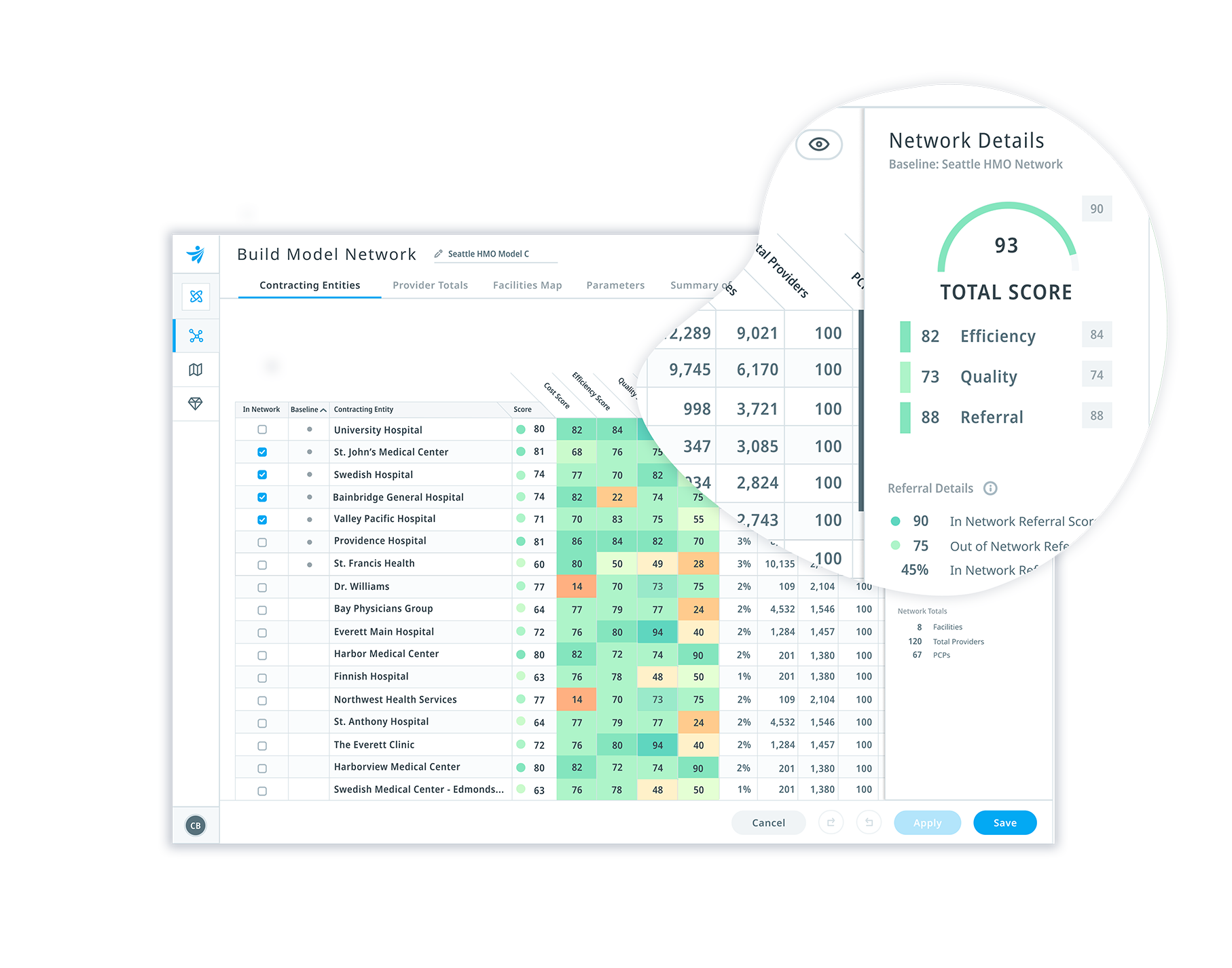 Considerations when evaluating provider partners could include:
Competitor provider networks
Existing provider relationships
Engagement level
Commitment to quality
Management of total cost of care
Monitor ongoing provider performance to continually drive value.
Effectively managing costs and utilization while performing well on provider performance measures gives you the ability to offer competitive benefits and grow at a faster pace, all while being financially viable. To keep your high-performance network on the right track, you might consider offering additional support to maintain alignment. For example, you could have a healthcare analytics platform that both the health plan and the provider can use to analyze healthcare performance in key areas. Bringing partners into the conversation and keeping them engaged is critical to ensuring your members receive high quality healthcare.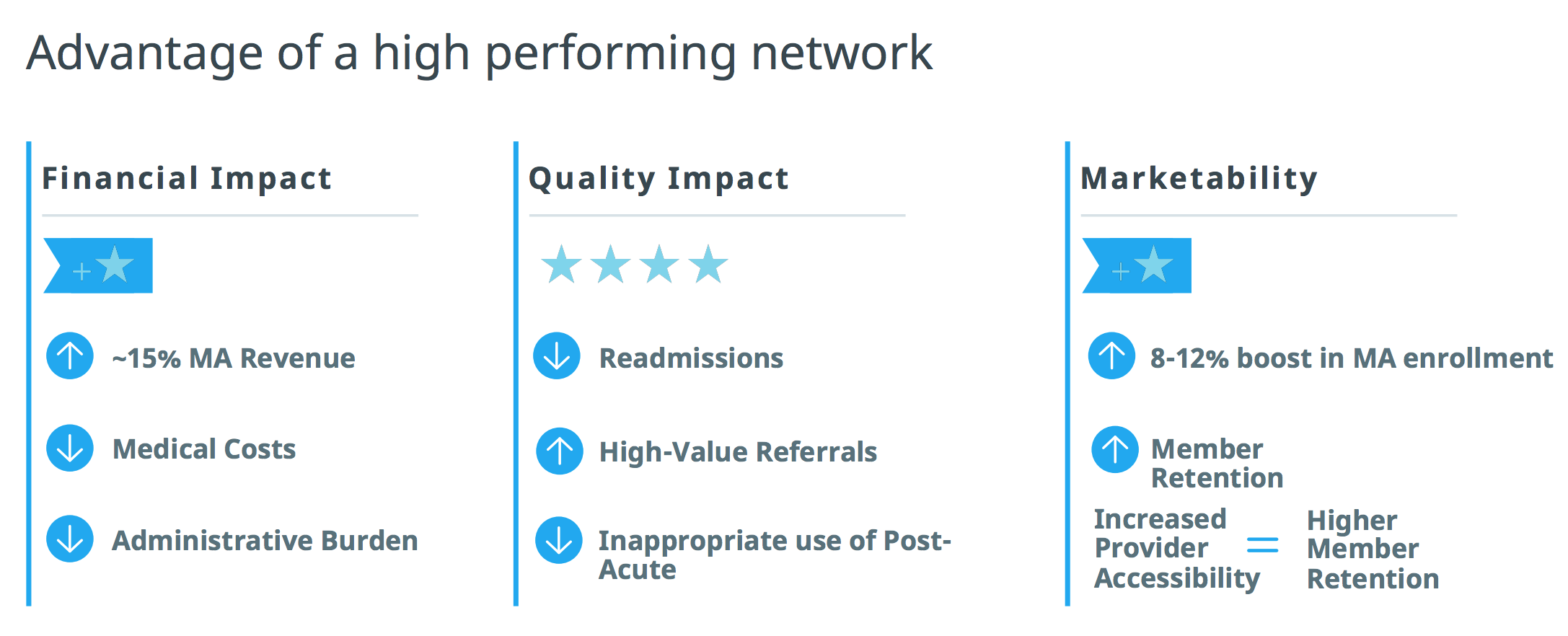 How to become a market-leading Medicare Advantage plan
Diversifying your products and expanding into new markets can be core components of a long-term growth strategy for any health plan. However, if you're missing critical data at the outset, it could be years before you start earning a return on your investments.
Many health plans have highly-sophisticated analytics teams that are acquiring and analyzing data from outside sources to help inform provider network decisions. Despite all these investments, a common issue plans face is that the insights generated aren't granular enough to drive action. For example, while Cigna had highly capable teams dedicated to pulling together all sorts of information to build network strategies for Medicare Advantage expansion, the processes were inefficient, and the insights weren't always actionable.
"We were living in a lot of spreadsheets, CMS data sets, multiple analytical tools, and oftentimes, it was up to the network teams to be able to make any of this information meaningful and actionable." – Blake Amos
Innovative health plans like Cigna are benefiting from the three-step approach we outline in this article and are leading the market in Medicare Advantage plan growth by 15-30% compared to 9% market average.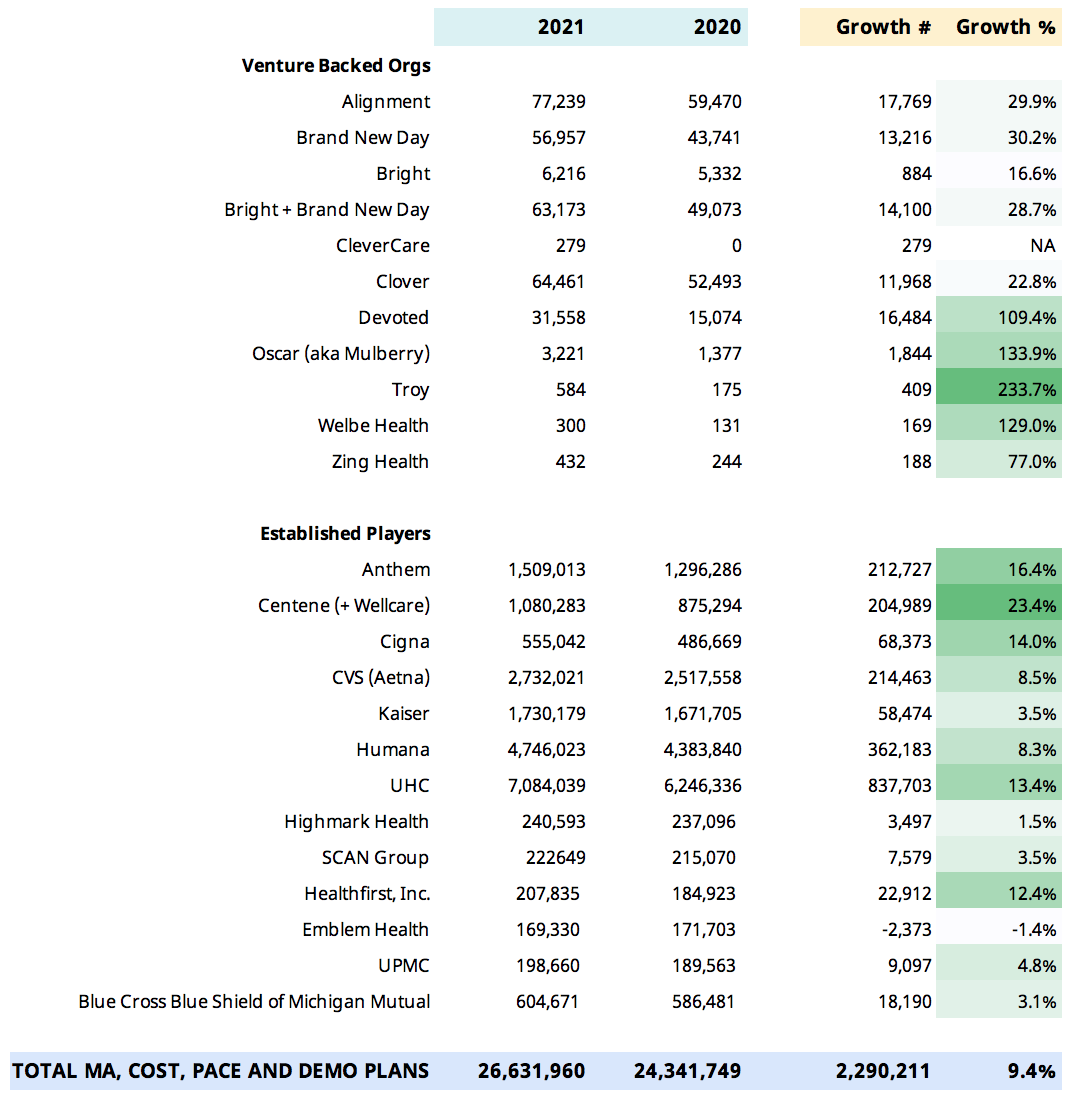 To learn more about how you can drive high-performance network expansion in Medicare Advantage, Medicaid, or Commercial markets, contact us here.