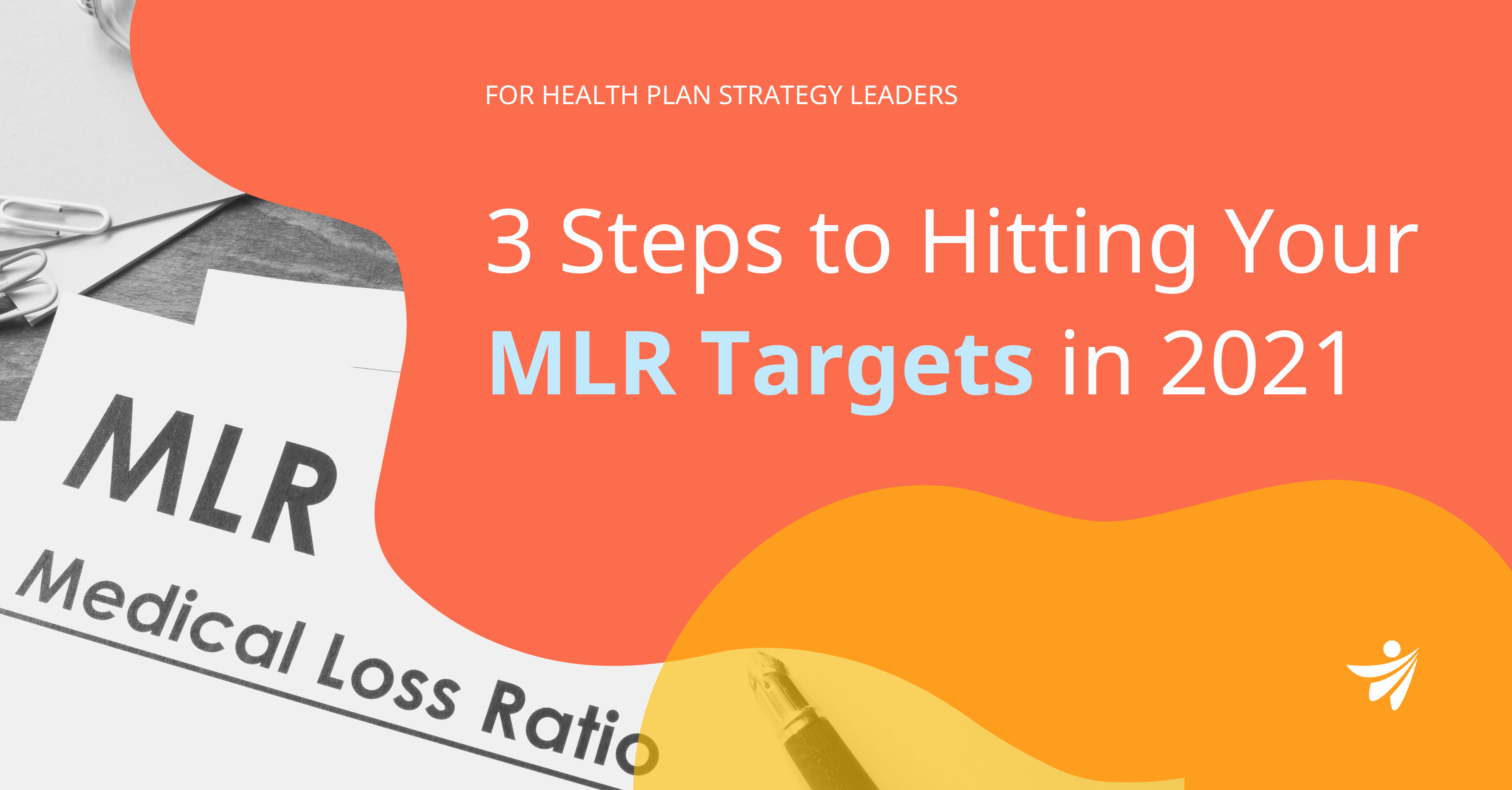 While many plans did not meet their minimum medical loss ratio (or MLR Target) for 2020, in three steps, payers can better position themselves to meet these targets in 2021.
But first…
What is a Medical Loss Ratio (MLR)?
The medical loss ratio (MLR), also known as the medical cost ratio (MCR), is the percentage of member premiums that health insurers spend on medical care or quality improvement activities for their patient population. Prior to 2011 when the Affordable Care Act (ACA) was passed, many insurance companies were spending a large portion of premium dollars on administrative costs and profits. Since the ACA, health plans are required to meet minimum MLR standards.
The medical cost ratio is calculated by dividing the total paid medical services claims plus quality improvement activities by total premium revenue minus the allowable deductions.
(Paid medical services claims + QIA) / (Premium revenue – allowable deductions)
For insurers in the individual and small group markets, the standard MLR minimum for spending on quality improvement activities and medical care is 80%. For insurers in the large group market the MLR minimum is 85%. Health plans that do not meet these targets are penalized with increasing severity depending on the number of years a plan has missed their targets.
Challenges to hitting MLR targets in 2020
The COVID-19 pandemic presented many unforeseen challenges to meeting MLR targets in 2020. With hospitals deferring care at the start of the pandemic and many patients continuing to be uncomfortable with going into care facilities, health plan spending on patient care was cut dramatically. According to polling results shared from the Kaiser Family Foundation (KFF), nearly half of adults (48%) say they or someone in their household have postponed or skipped medical care due to the coronavirus outbreak. This drastic decline in utilization caused many plans to miss their MLR targets for the year. In fact, KFF estimates that insurers will be issuing a total of about $2.7 billion across all markets this year – nearly double the previous record high of $1.4 billion last year.
So with 2020 MRL targets slashed for many plans, what can they do to ensure they're tracking in 2021?
Three steps to hitting your MLR targets in 2021
Identify and engage high-risk members
As the impact of the pandemic carries through to 2021, members may face difficulties getting the care they need. Effectively managing population health requires getting members the care they need before an avoidable event occurs. Health plans should invest in predictive analytics software that proactively identifies member risk and matches individuals to intervention programs that are best suited to meet their needs. In order to maximize impact, plans must be able to proactively prioritize interventions that will have the highest impact. For example, plans may choose to enroll certain cohorts of members in additional engagement or care management programs to ensure they are staying healthy and active along their care journeys.
Track performance of provider partners
Tracking performance of in-network providers is crucial for health plans both because these are important factors to CMS, but also because having a high-performing network means you are providing high-value services to your members.
Health plans should prioritize high-value providers to include in their network based on case-mix adjusted clinical, quality and cost-efficiency scores.
Invest in quality improvement activities
CMS created guidelines to encourage health plans managing government programs to invest in quality improvement activities (QIA or QI activities), particularly those that required investments in data and technology, which would ultimately improve the medical care that members receive. To be considered QIA, health improvement activities must lead to measurable improvements in patient outcomes or patient safety, prevent hospital readmissions, promote wellness, or enhance health information technology in a way that improves quality, transparency, or outcomes according to a KFF overview of components of the ACA-MLR equation.
Examples of quality improvement initiatives that can be classified as quality improvement activities include:
Direct outreach to health plan enrollees, including face-to-face, telephonic, and web-based interactions to improve health outcomes. This includes HEDIS and gaps in care initiatives.
Case management, care coordination, chronic disease management, and medication management activities.
Prevention of hospital readmissions through discharge planning and patient-centered education.
Implementing best practices designed at improving patient safety.
Enhancing the use of health care data to improve quality, transparency, and outcomes, and to support Meaningful Use.
Final thoughts on hitting MLR standards in 2021
There are many unknowns as we head in to 2021, but one thing we know for certain is that investment in technology that enables the identification and delivery of higher-value healthcare has never been more critical. The healthcare landscape is changing, government regulations are being re-written, and care models are being re-designed on the fly as we adapt, and plans need reliable, actionable analytics to ease these transitions. Investing in the right technology means investing in quality.
How Clarify Health can power MLR success
Clarify helps health plans improve the quality of care that their members receive by providing precise data analytics for health plans and their provider partners. We harness the power of the most comprehensive patient data sets and machine learning to deliver precise and actionable insights into performance, cost, quality, and utilization. Our Health Plan products enable customers to identify high-value providers to include in-network, understand natural referral patterns, stratify populations, accurately predict medical spend for specific cohorts, and match patients to the best care.