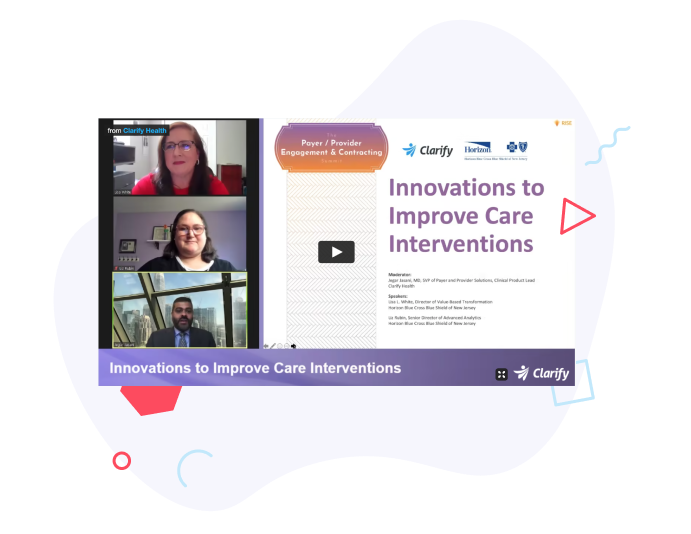 During this year's RISE Payer/Provider Engagement and Contracting Summit, Dr. Jegar Jasani hosted a panel session with leaders from Horizon Blue Cross Blue Shield of New Jersey called "Innovations to Improve Care Interventions." Joining the discussion were Liz Rubin, Senior Director of Analytics, and Lisa White, Director of Value-Based Partner Transformation for Horizon. At the core of Horizon's value-based strategy is a commitment to building trust with their provider partners and working collaboratively to serve their shared patients and members. Our partnership with Horizon centers around their innovative approach to supporting providers in their value-based programs. Over the course of an hour, Liz, Lisa, and Jegar discussed the critical components of successful partnerships and the technologies that power them. 
To start off, Lisa provided an overview of Horizon's value-based programs and the specific challenges they were looking to solve using the Clarify platform. 
How is Horizon approaching value-based programs? And how is the Clarify platform enabling your shared success? 
Horizon is building primary care-focused value-based partnerships across the state of New Jersey with partners spanning from large integrated health systems to individual practices. Their programs cover 2.8M members and their main goals are to generate shared savings while also providing the best service possible for their members. Horizon is one of the most advanced health plans in the country when it comes to building value-based partnerships, and through their work, they are actively defining the future of payer/provider collaboration. 
A key element of their approach is using data to support their providers. Lisa explained, "our providers are really amazing clinicians and they all want to do the right thing, and a lot of times it's just a matter of them not having the right information." In order to fill this gap, Horizon partnered with Clarify Health to provide shared intelligence directly to their provider partners which will allow them to drill down into trends in utilization, patient cohorts, and cost. This shared information is part of their innovative approach to enabling their partners to make smarter, more personalized care interventions. 
How is Horizon assisting its providers in scaling better and more effective care?
Meet them where they are:  Lisa said, "the number one rule is to meet them where they are. I think no matter what, irrespective of size, we have to meet providers where they are because that's how we really get to a strong partnership and meet our shared goals."  
Build for scale: From a technology standpoint, Liz pointed out it's critical to invest in systems that can scale. She noted, "for Horizon, it takes a lot of great business partnerships and leadership inside the plan, collaborative relationships with our providers, strong relationships with our internal technology teams, and last but not least, the external partnership we have with Clarify to bring it all together." 
Get as close to the workflow as possible: Liz continued, "one of our other guiding principles is to get as close to the workflow as possible to make it easy for our providers. We're not trying to add a reporting burden, we're not trying to add extra clicking. So to do that beautifully takes a lot of technology scaling and a lot of hard work."
Jegar summed it up by saying, "you've got to start with getting all the data in the right place, building the insights, making sure you're meeting everyone in the workflow where they are… Everything from the single sign-on process to making sure the reports are easy to understand, and trusted. Technology isn't just about the report or the metric, it's everything around it to enable it."
How has information sharing between payers and providers changed over time?
For Horizon, Liz thinks of it in three phases. In the early days, information sharing was a manual process with physical reports going out to providers on an annual or semiannual basis. Liz recalled, "I just had a mental framework that all this hard work would go right into the recycling bin or trash can at the time." In the next phase, information sharing became semi-automated and the amount of data being distributed increased significantly. Today, Horizon is in a much more connected and interactive state of data sharing between the health plan and their provider partners, but it's been a long journey to get there. Liz shared, "I remember very well many of our passionate providers would come to our Newark headquarters and bring me a stack of charts, and say, 'Look, this is the evidence that your metric isn't quite right. You missed … These patients got whatever the clinical care standard said.' They were literally bringing, physically bringing, the data. So we've come a long way since then, just to think about the kind of interactive visuals and tools that we have today."
How can shared performance intelligence improve payer/provider collaborations to drive better member outcomes?
A fundamental understanding across all of Horizon's shared savings programs is that the clinical impacts the cost, so when their transformation teams think about how to increase their shared savings, they focus on how they can help influence and support the clinical elements. 
One of the challenges Horizon was looking to eliminate was the "black box" of information in their performance analytics. In the past, they were using directional analytics and broad trends but couldn't get specific enough to drive action that would improve care interventions or member outcomes. Lisa provided an example saying, "we could tell the leadership of a large system where their clinical buckets were. So we could say, 'Okay, you've had all of these dollars connected to low acuity, non-emergent ED visits.' But we couldn't really tell them anything else." 
They wanted to be able to give deep, specific, and actionable insights to their providers so they could improve their care interventions. Lisa said, "now with Clarify, we're not only telling them the big picture of how they're performing, but we can pull out those specific intervention opportunities, regardless of where the care encounter happened. We've eliminated those black boxes; it gives each of the leadership levels, whether it's at the small practice level or the roll-up large health system level, a whole new ability to see what's actually happening patient by patient, and member by member. And where the opportunities are to take action. I think that's pretty exciting."
To learn more about Horizon's innovative approach to supporting their value-based partners, watch the full session on-demand here. Liz and Lisa share their top tips for driving success in shared savings models and how to build trust with providers. You'll also hear their perspectives on the most important investments health plans and providers should make to drive success in shared-risk payment models.