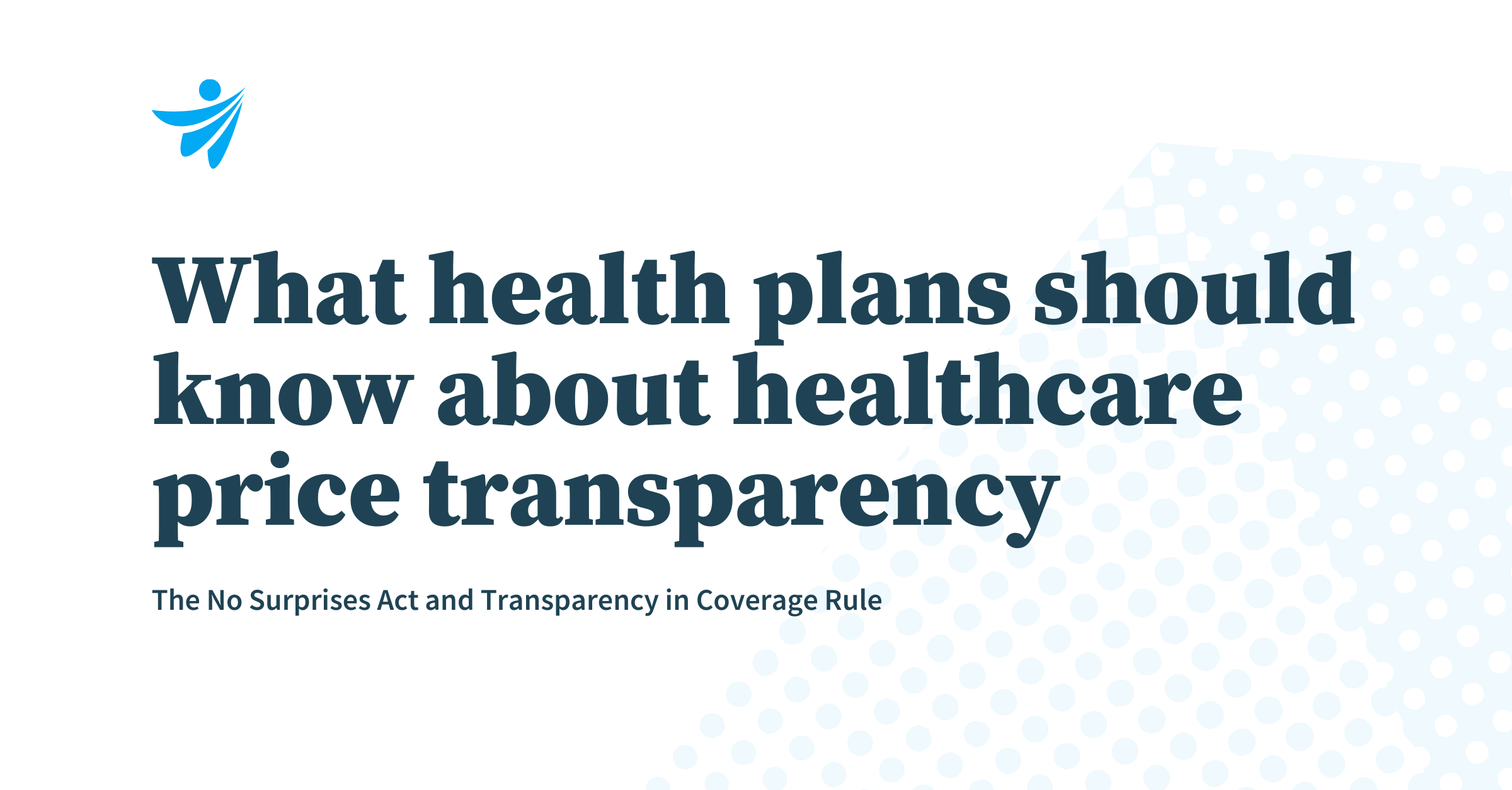 The No Surprises Act and Transparency in Coverage Rule
The past two years have been monumental for healthcare transparency and reporting regulations. The No Surprises Act (NSA), signed into law in December 2020, and the Transparency in Coverage Rule (TiC), published in October 2020, will have significant implications for health plans in 2022. Let's take a closer look at each one and how they will impact health plans.
No surprise billing: A breakdown of the key requirements and deadlines in the No Surprises Act
The No Surprises Act aims to protect patients from receiving "surprise" (or unexpected) medical bills from a healthcare provider or facility after inadvertently receiving care from an out-of-network provider. According to the federal government, out-of-network surprise billing occurs 10 million times a year. It is a financial burden for patients when out-of-network claims get denied or higher out-of-network medical billing cost-sharing occurs.
The No Surprises Act protects patients from two scenarios. The first protection is from surprise medical bills for out-of-network emergency services, which happens during emergent situations when a patient cannot determine whether the provider they use is in-network. According to the Kaiser Family Foundation (KKF), patients unintentionally receive care from an out-of-network provider every one out of five emergency room visits.
The second protection from surprise bills is for non-emergent settings when a patient receives care from an out-of-network healthcare provider while at an in-network facility. This often occurs when a provider is dropped from or chooses to leave the health plan's network.
The No Surprises Act sets a January 1, 2022 deadline for health plans to adhere to the new requirements and billing protections. The Act does the following:
Bans out-of-network charges and balance billing for out-of-network ancillary providers at in-network facilities. Ancillary providers support the work of the primary physician, such as radiologists, anesthesiologists, and pathologists. Exceptions are allowed, but patients must be provided with a plain-language consumer notice that requires patient consent.
Requires that emergency services be covered at an in-network rate without requiring prior authorization, even if services are received from an out-of-network care provider or facility.
Addresses air ambulance services billing by disallowing balance billing. Privately insured patients would only pay the same deductible and copayment amount paid for in-network air ambulance providers.
Introduces an independent third-party dispute resolution process to resolve price disputes between providers and health plans that cannot agree on a payment amount for out-of-network services.
Healthcare price transparency: A breakdown of the key requirements and deadlines in the Transparency in Coverage Rule
The purpose of the Transparency in Coverage Rule is to increase medical price transparency by providing consumers with access to pricing information through their health plans. It requires that health plans publicly disclose pricing for in-network rates, billed charges, prescription drugs, and the allowed amounts for out-of-network providers. It also requires that health plans give patients an estimate of their cost-sharing liability through an internet-based self-service tool.
It is another step toward increased healthcare transparency following the Hospital Price Transparency rule that went into effect on January 1, 2021. That rule requires hospitals to give patients access to their standard pricing, including negotiated rates with third-party payers. While the Hospital Price Transparency rule only included hospital services, the Transparency in Coverage Rule requires price reporting for all covered services. The requirements for health plans will go into effect July 1, 2022 and will require:
Publicly available machine-readable files that disclose detailed information on the costs of covered items and services, including hospital, physician, prescription, medical equipment, and other services pricing.
A consumer price transparency tool that discloses personalized information regarding members' cost-sharing responsibilities for covered items and services, including prescription drugs. The tool must be an internet-based cost estimator.
Implications for health plans as the trend in healthcare price transparency progresses
It is promising that many health plans and high-performing provider networks have taken an active and vocal stance that they plan to comply with the new transparency rules despite the downside risks. Although greater consumerism may benefit health plans, the new reporting requirements will result in new administrative burdens for health plans. Additionally, the traditional contract negotiation process between providers and payers could be flipped on its head. Providers will be able to access any health plan's pricing information to see the various rates they have negotiated with competing providers. Similarly, employers will have greater transparency and may become more critical of their discounted rates.
The question that remains is how accessible this information will be. The reality is that data published in 2022 will be difficult for providers, employers, and consumers to digest. Additionally, how each state enforces health plan compliance with the data submission requirements will vary across borders, leading to different experiences for consumers based on where they live. 
How can health plans use rate intelligence to prepare for increased healthcare price transparency?
Because the price of covered items will become public in 2022, health plans will need fast access to comprehensive market rate intelligence to stay informed. Rate intelligence will help health plans maintain a competitive advantage as they negotiate with healthcare providers and design networks. Clarify ​​Rates for payers is an on-demand rate intelligence software that supports health plans with pricing insights. Its intelligence is accessible instantly via cloud software, saving analyst time and allowing for immediate value. It helps health plans stay competitive while also strengthening their negotiating power. Read this rate intelligence guide for health plan strategy and network leaders to learn more about how you can use rate intel to better align with your provider partners and drive higher-value care for your shared members and patients.