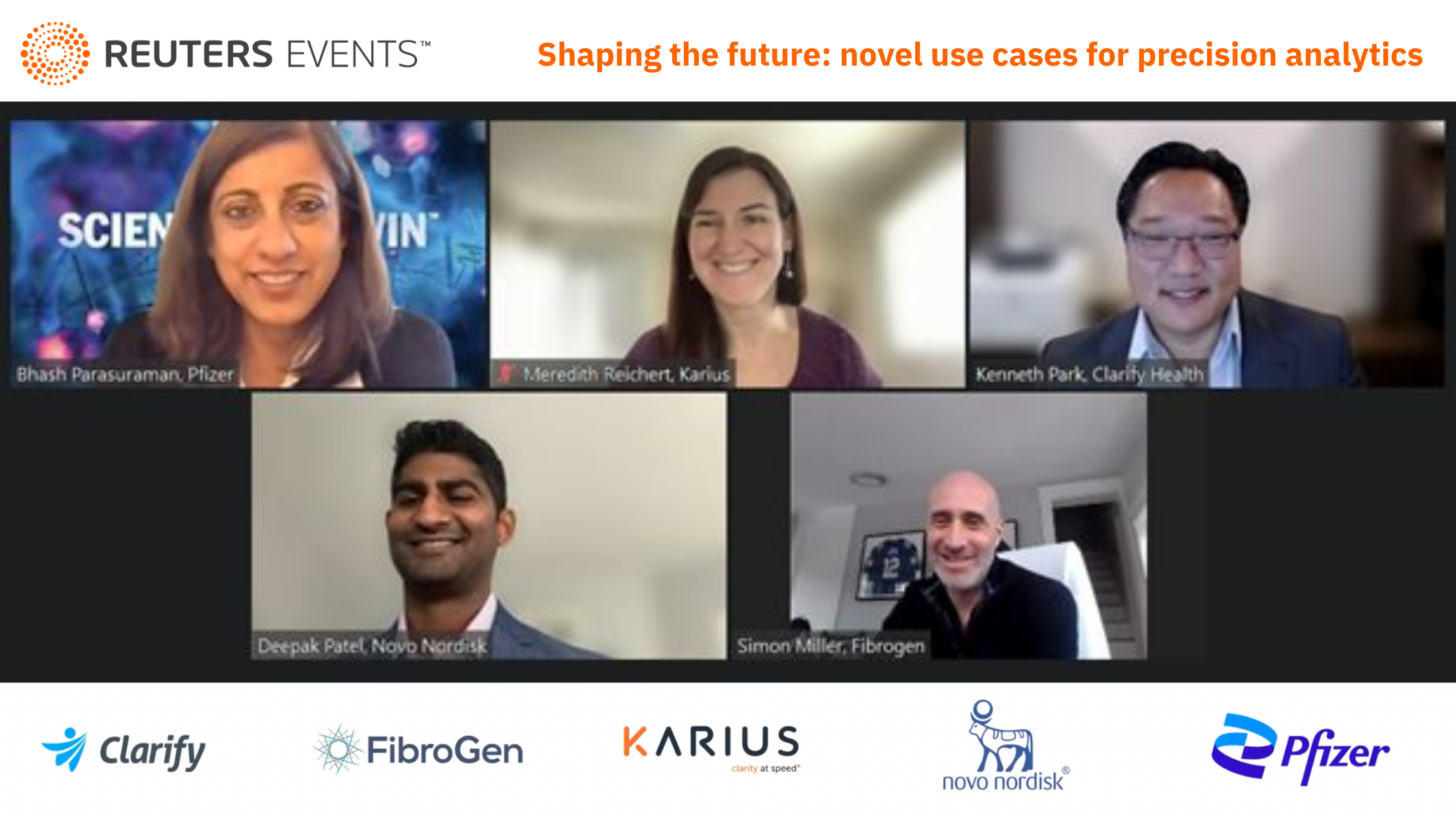 Clarify Health's Dr. Kenneth Park, Senior Vice President and General Manager of Life Sciences, moderated a Reuters' speaker series on the successful applications of precision insights to better understand patient cohorts, hyper-segment markets and healthcare providers (HCPs), and assess the cost of care. The panel consisted of leading life science industry experts, amongst which included: 
Bhash Parasuraman, Ph.D., Vice President, Patient and Health Impact, Internal Medicine and Rare Disease BUs at Pfizer

Meredith Reichert, Ph.D., Vice President Corporate Strategy and Development at Karius

Deepak Patel, PharmD, Director, Medical Affairs, Diabetes at Novo Nordisk

Simon Miller, Executive Director at FibroGen, Inc.
The life sciences industry has become accustomed to long waits for access to insights — sometimes waiting up to four months or longer for an analysis that doesn't narrow in on patient cohorts and isn't granular enough to properly answer critical business questions. The panel of industry experts discussed how they're reshaping the future through innovative approaches to leveraging precision analytics. 
Using real-world data solutions and health analytics to deliver better commercialization strategies
Novo Nordisks' Deepak Patel spoke about equipping medical affairs with up-to-date, on-demand insights that assess health disparities. He remarked that solely relying on clinical data for specific patient cohorts means you will miss critical insight on social determinants of health (SDoH) and health disparities — factors that impact the patient journey and reflect the realities of care. 
 "When you only look at clinical data, you're missing part of the picture. And that part of the picture is social determinants of health components that really play a role in a patient's health journey," Patel said.
According to Simon Miller, driving successful commercialization decisions for product launches, such as segmentation, strategic planning, and resource allocation, requires augmenting clinical research data with the keen health analytics insights of real-world data. 
 "We'll also map out a really in-depth view around what's going on from a patient and an HCP standpoint. And that's really challenged us to then go back on some of the assumptions that we heard, which may not fully represent the real world. Somewhere in the middle is where we need to really explore," said Miller.
Similarly, Karius' Meredith Reichert described the critical role of real-world evidence (RWE) for commercial targeting and quantifying the market opportunity for their Karius Test™, which has broad applicability across disease conditions and suspected infections. They sought Clarify's health analytics capabilities to answer business questions on the physicians who treat patients that could benefit from the Karius Test. Through Clarify, they were also able to identify the stakeholders diagnosing and treating those patients and pinpoint key decision-makers of new diagnostic tests.
 "This is where patient journey insights have been so valuable. We understand all of the different physicians that are seeing an individual patient and which ones are going to be the most important decision-makers for this diagnostic. This helped us with targeting, territory design, and optimizing our commercial outreach," said Reichert.
On understanding internal limitations and building strong analytic partnerships 
Acquiring real-world data on social determinants and cleaning claims data for meaningful analysis may not be efficient utilization of business resources and internal team capacities. That was the case for Karius, whose partnership with Clarify was dependent on securing a thought partner with robust data analytics capabilities, proven transparency, and industry-leading data visualizations.
Novo Nordisk's Deepak Patel discussed the importance of providing internal field teams with relevant real-time insights to enable them to have more productive conversations with providers. He described the value of a solution that is easy to use and delivers insights into demographics that have high relatability to customer groups. He also mentioned how Clarify is able "to take complex data sets such as these [SDoH data] and simplify them in a way that not only our teams can use it, but so all our customers can actually understand the data that's being presented to them."
Selected health analytics partners should be able to provide deep life sciences insights that offer a complete view of the patient journey, including SDoH factors, such as race, income, transportation, and housing stability, which all play a role in access to testing and treatment. Additionally, on-demand access to these insights is critical for field teams.
 "I'm hoping that we can remove that barrier by bringing them real-time data to give them a snapshot of what's occurring now versus what occurred two years ago, a year ago, or maybe even six months ago," said Patel. 
Bhash Parasuraman of Pfizer closed the panel by discussing Pfizer's partnership with Clarify for an observational study on diagnostic testing in ATTR-CM patients. In addition to leveraging Clarify's Medicare FFS datasets, they trusted its clinical informatics team to help build a clinically relevant and robust study methodology to assess the relative use of ATTR-CM confirmatory diagnostic tests in routine clinical practice.
 "The first step is really making sure you're asking all the right questions […] and then work with a partner to figure out how you can answer them because it's not easy. And it certainly takes some iteration and some collective thought partnership to get there in addition to the analytics that underlies all of it," said Bhash Parasuraman, Vice President of Patient and Health Impact at Pfizer."
Watch the full session recording here. 
Click here to learn more about how Clarify's real-world evidence software powers timely, on-demand analytics to drive business decisions and provide life science organizations with on-demand insights for clinical research through commercialization. Whether you're in Phase II clinical trials, developing a commercialization strategy, or working to quantify a market opportunity, our software delivers the most precise patient, HPC, and market insights to guide you through key business decisions.