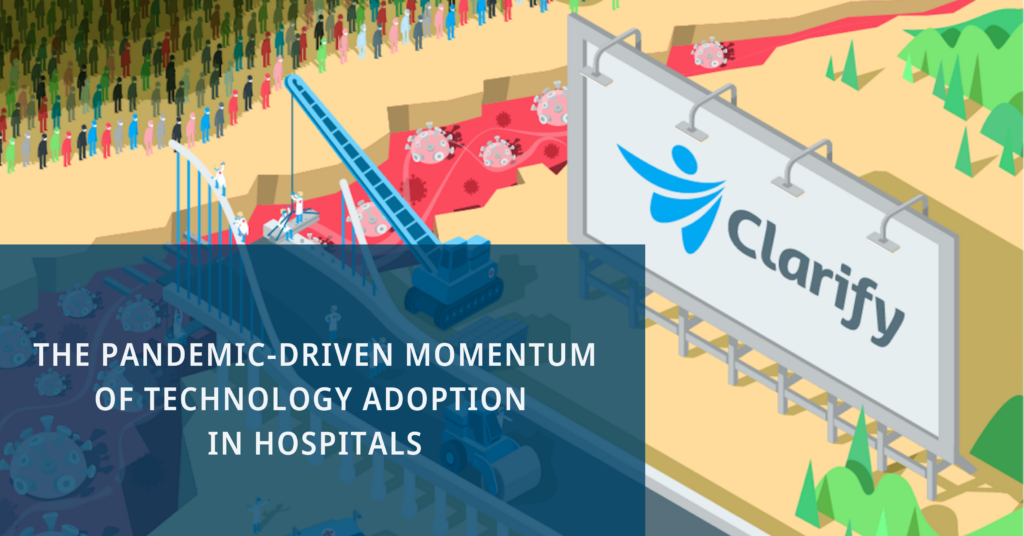 Healthcare is notoriously conservative in its adoption of technology. Yet, telehealth use skyrocketed because of the COVID-19 pandemic. With the sudden physical distance between patients and healthcare facilities imposed by the lockdown, providers proved they could transition to virtual care instantly. Could this be the example the industry needs to change the trajectory of adoption of other technologies?
In an HLTH webinar production on July 15, 2020, called "Turning up the volume on preventative care and elective procedures," Clarify's CEO, Jean Drouin, MD, moderated a panel discussion with Rebecca Kaul, Vice President, Chief Innovation Officer, MD Anderson, Thomas Graf, MD, FAAFP, Senior Vice President Clinical and Network Services and President, Ascension Medical Group, and Jennifer Mitzner, Chief Executive Officer, Hoag Orthopedic Institute and Executive Vice President, Hoag. They talked about the innovations they implemented to keep their doors open in a changing environment, the technology that healthcare needs most urgently, and piercing the waste bubble. The panelists also discussed the impact the pandemic has had on 'regular,' non-COVID-19 care, clinical side effects of lockdown, and whether it is safe for patients to return to the doctor's office.
What impact has the pandemic had on your preventative care and elective procedure volumes?
At the pandemic's first peak, non-urgent care services were paused across the US to make way for COVID-19 patients. State governors halted elective procedures, and health systems told patients to stay home for non-urgent medical needs. Rebecca said, "we thought it would only be a few months, we wanted to save capacity for COVID-19 patients, and we wanted to limit patient and staff exposure."
MD Anderson, one of the world's most respected centers devoted exclusively to cancer patient care, research, education and prevention, initially experienced a 70% drop in ambulatory volume and a 50% drop in inpatient volume. Today, their volume is trending back up but still missing about 20-25%. Ascension, a faith-based healthcare organization in 22 states, experienced a 40% drop in ambulatory and inpatient volume. Today, they hover at 90-95% of pre-COVID levels (with some areas above 100%), between in-person and virtual visits. Hoag Orthopedic Institute (HOI), one of the highest-ranked orthopedic specialty hospitals in the US, experienced a 25% drop in surgical volume at the initial spike of the pandemic, and they quickly rebounded. As a specialty hospital, with no emergency room and no general acute care, surgical patients do not risk interfacing with COVID-19 patients.
Is lockdown creating a "hidden pandemic"?
While preventative cancer screening and chronic disease management are not emergencies, there is a price to pay for waiting. The longer the delay, the greater the morbidity and mortality, and the higher the cost to the healthcare system.
Ascension experienced a significant decline in their ability to meet quality measures for coronary disease, diabetes, hypertension, and depression. "This sets us up for complications down the line," said Dr. Graf, who now expects to see an increase in heart attacks that might have been prevented.
"It is a personal choice whether you do [cancer] prevention and whether you consider prevention urgent," said Rebecca, also recognizing that a patient's risk category is a key driver in the decision. At the start of the pandemic, MD Anderson halted all preventative care and screenings. They proactively called patients and delayed appointments by a couple of months, assuming that the pandemic would be a temporary disruption. Now with the appropriate safety measures in place, they are urging patients to come back. If prevention and screening slow down, cancer could have more time to progress.
However, maybe not all deferred care needs to return. The panelists discussed whether this might be an unexpected way to break into the healthcare cost bubble we have not been able to pop. For example, patients who might have shown up at the emergency room for a common cold or minor injury previously are now staying home. Jennifer said, "I expect there will be a permanent resizing of demand in the emergency room; but time will tell."
Are patients justified in their fear of returning to a healthcare setting?
The fear is "understandable and not surprising," said Dr. Graf. However, perceptions may not reflect reality. As Rebecca pointed out, "those of us who are insiders feel like there is nowhere else that is safer be."
When we asked the audience, comprised of 250 individuals from a wide range of healthcare organizations: "how comfortable are you with going to a care setting (hospital, clinic, etc.) for a non-urgent visit today?" The poll results showed that 58% were somewhat or very uncomfortable.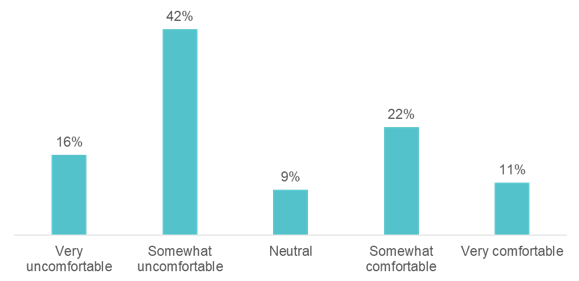 The panelists pointed out the paradox that at the same time healthcare professions say it is safe to come back, they also say: don't bring any visitors, wear a mask, and hide in your car until the time of your visit – and then they welcome you wearing a spacesuit. "We need to make sure our approach feels as safe [to patients] as [we know] it is," said Dr. Graf.
The panelists recognized that when COVID-19 first spiked in the US, health systems were not prepared. They did not have the right policies, procedures, and PPE distribution for a pandemic. "All of that is in place now; we've figured out how to keep patients safe, to keep patients separated, and do COVID-19 care and regular care at the same time," said Dr. Graf. Health systems are embracing a new mantra these days. "Safety is the new quality," Jennifer said.
Will the takeoff of telehealth change healthcare's conservative ways?
Like many provider organizations across the industry, telehealth adoption skyrocketed at all three institutions. Ascension conducted 7k virtual visits between March and May 2019; this year, telehealth visits spiked to 700k during those same two months. The panelists agreed virtual visits are here to stay, barring any major regulatory changes, of course. However, Dr. Graf pointed out that there is more work to do. "We lamented the fact that we could not get an exam or an EKG," he said, but questioned whether that is missing the point. Dr. Graf offered the webinar participants and panelists a new lens by which to evaluate telehealth, not by its limitations in replicating a physical visit.. As Dr. Graf put it: "just like a movie is not a video of someone reading your book, a virtual visit needs to be its own thing." Things that make in-person care difficult may be trivial in the virtual world. For example, virtual visits make it easy for family members in faraway places to attend an appointment or for multiple specialists to consult on the same patient at the same time.
In another live poll, we asked the audience: "beyond telehealth, what technology should health systems and provider groups make the biggest investment in to attract and retain non-urgent care patients while the pandemic is ongoing?"

45% felt the biggest investment should be made in digital patient outreach and engagement, and 31% thought it should be remote monitoring, wearables, and sensors.
At HOI, they are using virtual waiting rooms to help ramp up services, as well as a combination of social media, CRM technology, and other tools to engage with patients. They are also finding ways for patients to learn about what to expect during their visit, online before they arrive. Their website offers virtual pre-op classes for patients scheduled to have surgery.
MD Anderson is accepting remote imaging, which is particularly helpful to out of state patients who cannot come in for it. They are also using remote sensors in the hospital to limit staff exposure by reducing their time in patient rooms. They are standing up the infrastructure to handle new sources and high volumes of patient data, and AI to alert them when there is a high-risk situation emerging. MD Anderson is also using clinical trial matching technology to support their research arm, helping patients decide whether a study treatment justifies a visit. From an operational standpoint, Rebecca emphasized the need to automate safety procedures. "We don't want to have an army of people at the front door to take temperatures. We want to automate some of that," she said.
Considering the needs of underserved patients during the pandemic, Dr. Graf asked, "how do we reach the poor, vulnerable, elderly, and rural?" He described a future that needs low cost, digital equipment to be used at home for lab draws, EKGs, etc. "Anything that moves care to a lower-cost setting is going to be front and center," said Dr. Graf.
The panel unanimously agreed that COVID-19 further exposed the technology gap in healthcare. In the past, healthcare got a pass. "We had a low bar," Jennifer said.  Now, "the things that we're putting in place for safety and engagement are going to be expected," said Rebecca. The sentiment was that we cannot go back to crowded waiting rooms and limited communication with patients. Patients will have higher expectations.
Has the pandemic laid the groundwork for the healthcare industry to be more progressive and innovative? The panelists are hopeful, but only time will tell.
For health system, physicians, and ACOs that want to be on the leading edge of healthcare's transformation, the Clarify Health Platform is powering action through precision analytics. Our software analytics products help providers thrive in a post-pandemic world by identifying opportunities for market capture, network optimization, provider performance improvement, and value-based program performance.