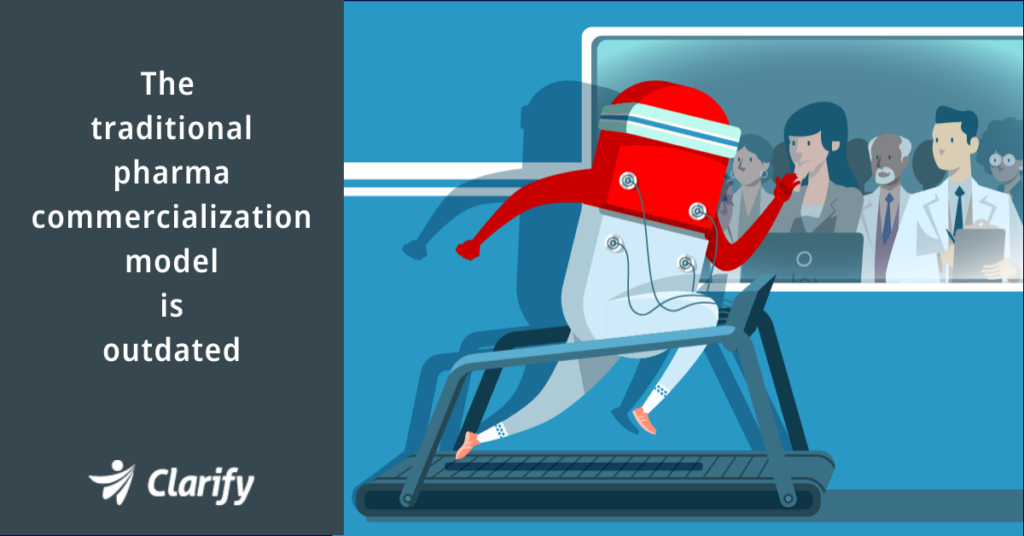 The revenue performance of a pharmaceutical drug at launch sets the stage for its commercial future. However, approximately two-thirds of new drugs fall short of first-year sales expectations. In this HLTH GoLive series webinar, "Rearchitecting the Drug Launch Model," Manisha Gulati asked an expert panel tough questions about what it will take to beat these odds. The panel included Bhash Parasuraman, PhD, Vice President and BU Lead, Rare Disease Patient & Health Impact, Pfizer, Calum MacRae, MD, PhD, Professor of Medicine at Harvard Medical School, and Surya Singh, MD, President, Singh Healthcare Advisors. Over the course of the hour, the panelists poked holes in today's outdated pharmaceutical commercialization approaches and discussed key advancements needed to rearchitect the drug launch model.
Pharmaceutical commercialization
On average, 23 approvals for new drugs were granted each year between 2000 and 2010. Approvals have spiked in recent years, with 59 new drugs approved in 2018. Despite this uptick, revenue per drug has declined. The discussion zeroed in on the incentives of regulators, payers, providers, and patients, which are often at odds with each other. This muddies the waters for launch teams, resulting in poor market performance.
Specialty drugs—a market that is exploding—are further raising the stakes for launch teams. By 2025, several new gene and cell therapies will be coming to market. These will be life-saving for patients with rare cancers and inherited diseases, but they will be extremely expensive. Bhash cautioned, "if we do not start planning for their launches today, the investment pharma is making will not pay off." We can no longer begin drug launch strategy and implementation when drug development ends. It needs to start much earlier.
Pharma real-world data
The use of real-world data emerged as an area that is ripe for progress. Clinical data, meant for obtaining regulatory approval, is not enough to launch in today's environment—particularly for establishing payer agreements. "We need a richer universe of data on patients, especially when we get into small populations," according to Surya.
We asked the audience, comprised of over 250 individuals from organizations across the healthcare ecosystem, including 34% who worked at pharmaceutical or biotechnology companies: are the pharmaceutical and biotechnology industries doing enough to incorporate real-world data into launches of new therapies?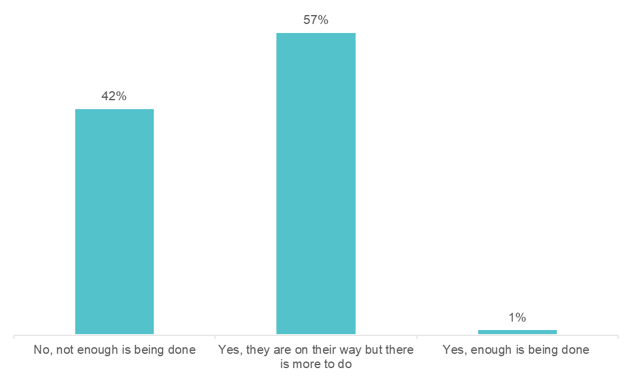 57% said "yes, they are on their way, but there is more to do." The panelists agreed. The examples of real-world data being used and accepted are far and few between, but they do exist. Take Eliquis, for example. Eliquis is a direct-acting oral anticoagulant launched by Bristol-Myers Squibb & Co in partnership with Pfizer. The drug proved more effective at preventing strokes and major bleeding in head-to-head trials against warfarin. Yet, that was not enough to unseat the incumbent. The drug companies mounted real-world evidence on the comparative effectiveness of Eliquis against warfarin, which ultimately allowed them to enter into several outcomes-based agreements with payers.
We also asked the audience: where should the pharmaceutical and biotechnology industries make the biggest investment to improve the success of drug launches?

35% of the audience said, "use more real-world data pre-and post-launch." The panelists agreed.
Pharma pricing
Advancements in reimbursement models are lagging behind the pace of R&D. The challenge, Bhash pointed to is that "we talk about value much later, after we talk about price." "That is why medical costs have become such a topic of conversation," she said. Take Zolgensma, for example. Regulators approved the infusion gene therapy to treat children with spinal muscular atrophy (SMA). With a record-setting price of $2.1 million per patient, payers pushed back. They narrowed the eligibility criteria, much beyond what was approved by the FDA. Calum highlighted another example: the class of PCSK9 inhibitors. When Sanofi launched Praluent and Amgen launched Repatha, both companies thought they had a heart disease blockbuster on their hands; however, both drugs turned out to be pharmaceutical commercialization disappointments. The drugs were intended to fill a therapeutic niche in selective high-risk patients, such as FH or statin-intolerant patients. At launch in 2015, Sanofi priced Praluent at $14,600 per year, and Amgen set Repatha's price at $14,100 per year. Despite their efficacy and safety, the high cost and lifetime use made payers put up barriers to exclude the drug on formulary.
The move toward pay-for-value is slowed by the fact that we are not aligned on the best ways to measure and capture value, including economic (i.e., total cost of care), comparative effectiveness, quality of life, etc. Bhash mentioned portability as one key issue. Patients frequently change health plans, particularly those in commercial plans, which presents a challenge in using claims data to measure value. Additionally, payers place value in long-term durability; however, it is the most uncertain factor, particularly for gene and cell therapies. While clinical trial data demonstrates short term durability, capturing it long term requires following the patient, which is an administrative burden for payers. It is easier for payers to give a rebate or look at a short-term, one to two-year period.
Whereas pay-for-value is retrospective, meaning value and payment can be established based on the data available at the time the drug is launched, pay-for-performance healthcare outcomes is prospective. Outcomes are to be demonstrated in the future, likely at the population level. The challenge with the pay-for-outcomes model is: "what do you put on paper," Surya said. A pay-for-outcomes contract between a payer and a pharma company needs to be adjudicated.
We asked the audience: in five years from now, how often do you expect the US will use innovative pricing models for new therapies, such as pay-for-value or pay-for-outcomes?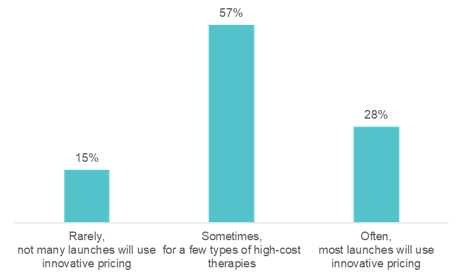 57% said, "sometimes, for a few types of high-cost therapies." "I hope the audience is wrong," said Surya, who believes we should move more rapidly toward innovative pharma pricing.
Pharma sales and marketing
"The sales process is going to change dramatically," Calum said. "It is essentially a data transfer, which in any other setting is happening immediately and virtually, rather than face to face." The panel agreed that pharma should continue to spend their energy on partnering with physicians to remove the barriers to treatment. For example, providing physicians with education by putting more medical affairs professionals in the field and providing disease management apps and AI tools to ensure patients are diagnosed appropriately. "Let's fund more sophisticated decision support rather than direct to consumer marketing," is one idea Surya proposed. We need to move toward identifying the right patient for the right drug using pharma commercial analytics.
Pharma analytics
The life sciences team at Clarify is committed to helping pharmaceutical and biotechnology companies leverage pharma commercial analytics to quickly and precisely identify their drug launch strategy and market opportunities to drive brand growth. Our RWE pharma analytics software has the ability to explore over 300 million longitudinal patient care journeys, bringing first-of-its-kind patient segmentation, provider attribution, and provider scoring capabilities to pharma analytics. Our life sciences products – Clarify Growth and Clarify Portfolio – address the two most critical factors for pharma and biotech commercial success: speed and precision. Learn more about Clarify's Life Sciences data analytics by clicking here.