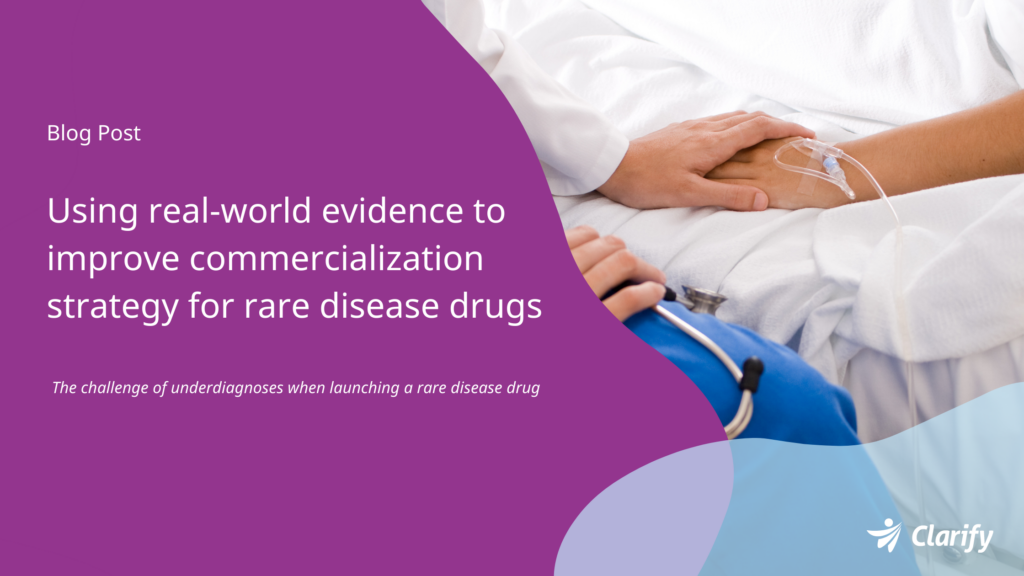 Addressing the challenges of underdiagnoses when launching a rare disease drug
Within the past decades, the government has pushed regulatory and financial incentives to encourage the development of rare disease drugs. In the United States, there are about 7,000 known rare diseases affecting over 30 million people. And 95% of rare diseases do not have any FDA-approved therapeutic. In recent years, there has been a significant rise in rare disease drugs coming to market. In 2020, the FDA approved 32 novel products with orphan drug designation.
As drug commercialization and market access teams prepare for pharmaceutical drug launches, they face the unique challenge of identifying rare disease patients. Orphan drugs have inherently small patient populations since the Orphan Drug Act defines rare diseases as a disease or condition that affects fewer than 200,000 people in the United States. In addition, rare disease patients often experience high underdiagnosis due to healthcare providers' (HCP) challenges in diagnosing rare diseases. Without precision analytics in drug launch strategy, the journey to deliver life-saving drugs to rare disease patients can be elusive.
Underdiagnosis of rare disease patients is a barrier to accessing life-saving drugs
Underdiagnosis is a highly prevalent barrier to treatment. According to the Centers for Disease Control and Prevention (CDC), 21.4% of diabetes patients in the U.S. are undiagnosed; and up to 11 million patients with hypertension are undiagnosed. For rare disease patients, underdiagnosis is even more acute due in part to misdiagnosis and limited clinician knowledge on rare disease epidemiology.
Nonalcoholic steatohepatitis (NASH) is a rare disease and potentially life-threatening condition that leads to scarring of the liver. In the U.S, it remains underdiagnosed despite its growing prevalence. Clinically, NASH is difficult to diagnose. And liver biopsies, the preferred diagnostic testing by providers, can be invasive, leading to additional barriers to diagnosis. Moreover, there's no FDA-approved drug for the treatment of NASH, through multiple therapeutics are currently in phase 3 development. Underdiagnosis and undertreatment of the condition accelerate disease progression, worsening prognosis for rare disease patients.
Leveraging life science commercial analytics to understand the patient journey of rare disease patients
Underdiagnosed diseases, such as NASH, present many challenges for drug commercialization teams. Precision analytics are critical to reducing barriers to access and getting effective therapeutics to the right patients at the right time. The insights from a life science commercial analytics software can increase visibility into the trends and intricacies of rare disease patients' journeys. The insights provide a complete understanding of the sequence of touchpoints that a particular patient segment has with the health system, delivering actionable insights to support HCP outreach and drug launch strategy for better outcomes, testing, and treatment.
In recent years, technologists, data scientists, and industry experts have come together to tackle critical challenges in healthcare analytics – low quality and incomplete data sets, siloed and non-interoperable systems, and cumbersome processes for extracting valuable insights. The new standard in precision analytics for life sciences offers speed, precision, and productivity. Brand teams equipped with precision analytics are best positioned to identify the right patients, even for underdiagnosed diseases such as NASH. Life science companies can leverage machine learning and big data efficiencies to pinpoint trends in prototypical patient utilization patterns and identify the HCPs treating rare disease patients to better support engagement and education.
This case study illustrates how QED Therapeutics used precision analytics to inform QED's commercial strategy and identify eligible patients for infigratinib, a first-in-class treatment for a rare bile duct cancer called cholangiocarcinoma (CCA).
Learn more about how Clarify's precision analytics are revolutionizing the drug launch strategy and commercialization of pharma and biotech therapeutics.