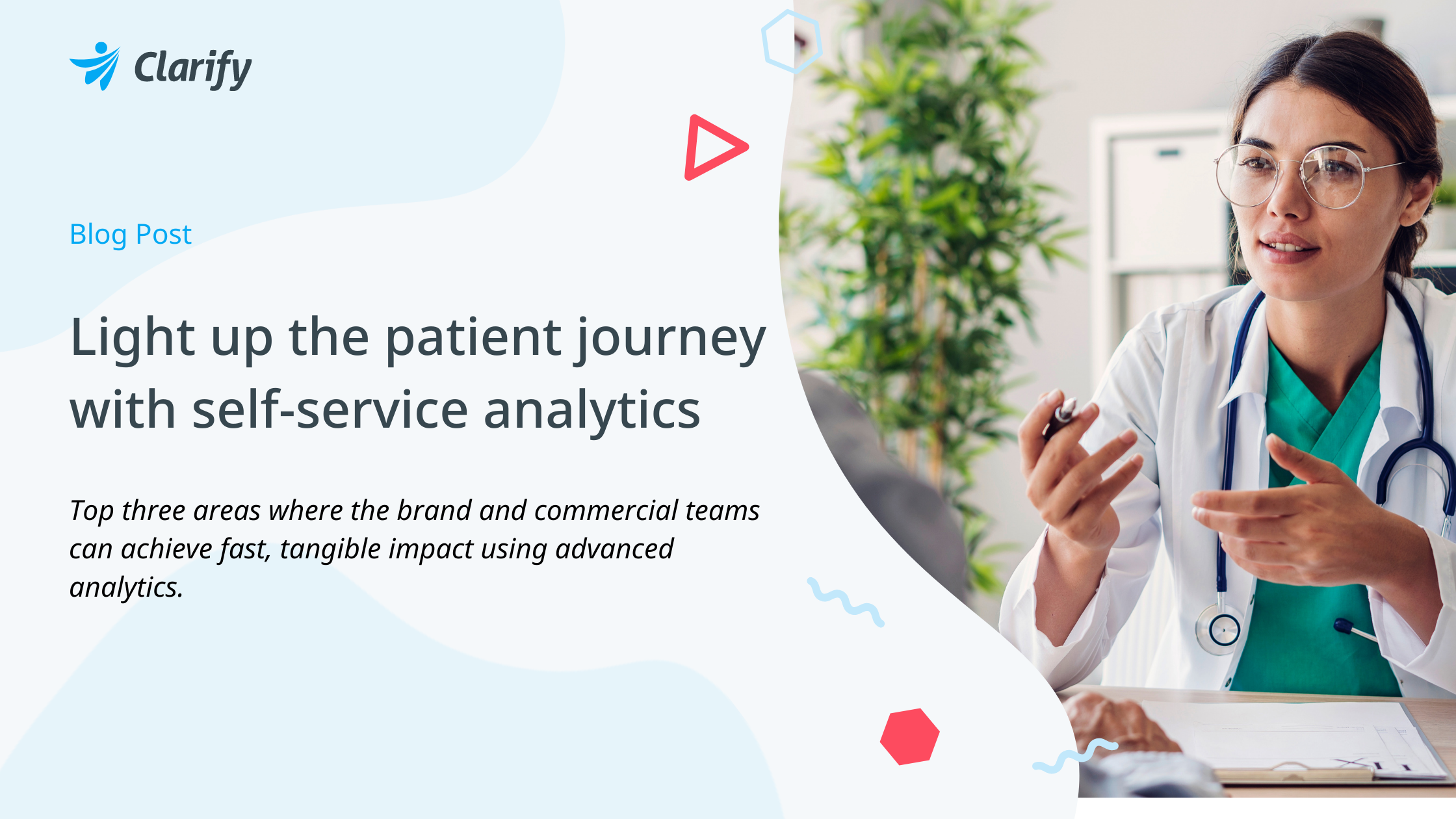 In a full digitized future, biopharmaceutical companies should be able to process and analyze medical disparities and Real-World Evidence data to crystallize patient care journeys across any therapeutic areas – in minutes.
However, the reality today is that the industry is just beginning to embark on its technological transformation. According to a Deloitte/MIT Sloan Management Review survey, only 20 percent of biopharma companies are "digitally mature" and maximizing the value from big data, data science, and analytics technology.
Through our work with commercial and brand teams across a range of large and mid-sized pharma companies, we've been able to identify three areas where the industry can achieve fast, tangible impact using advanced patient journey analytics to fully crystallize the elusive patient journey.
Uncover hard-to-identify patients with unmatched speed
The status quo for patient analytics today is heavily reliant on 'market baskets' of data at the ICD-10 coding level. However, when trying to surface under- or mid-diagnosed patients, brand and commercial teams are limited to educated guesses on who and where these patients are. Companies need integrated, comprehensive, and longitudinal data and a tool that enables rapid interrogation to find and characterize hard-to-identify patients and their patient treatment journeys.
Data analytics applications that utilize artificial intelligence and machine learning are equipped with the power and flexibility to do exactly that – create detailed patient cohorts, their profiles, and clinical and non-clinical features. These applications additionally recognize and characterize patterns, including time to diagnosis, treatment sequences, and health system touchpoints – which light up the patient journey to surface actionable insights.
Increase uptake with insights into social determinants of health (SDoH)
More and more, pharma and biotech companies are exploring the impact of SDoH on their commercial strategies. Without incorporating social determinants of health (SDoH) data and the ulterior aspects that influence a patient's health, companies do not have a complete picture of patient barriers to accessing care.
By taking into account factors such as income, housing status, and access to transportation – companies can develop robust access and marketing strategies to ensure patients receive their therapies at the right time and remain compliant to achieve optimal clinical outcomes.
For example, a Top 10 Pharma company needed to understand their hematology patients' potential barriers to access to care and identify those at risk for non-compliance. Utilizing the Clarify Growth life sciences software application, the company identified and characterized 7,000 patients living far from infusion centers and with limited transportation. This informed critical program planning as the drug went to market.
Prioritize patient and HCP segmentation with precision analytics
Deeply understanding the patient journey requires an understanding of their health care providers and their behaviors, such as the likelihood to adopt a new therapy or a therapy class for their patient cohorts.
Patient analytics solutions such as Clarify Growth Suite rank priority HCPs and accounts using algorithms proven to outperform traditional deciling. The power of technology to integrate the nuances of care delivery (e.g., specific patient panels, referrals, system affiliations, therapy switching behaviors) offers extra layers of insights to develop HCP targeting and profiles that can be integrated into the CRM. This significantly improves salesforce efficiency in a resource-constrained world.
Despite the nascency of big data and analytics technology in this industry, trailblazers in pharma and biotech are making hefty investments to maximize the impact that can be realized with advanced technologies.
Check out Clarify's Life Sciences and Platform pages to learn more about how you can join this revolution.