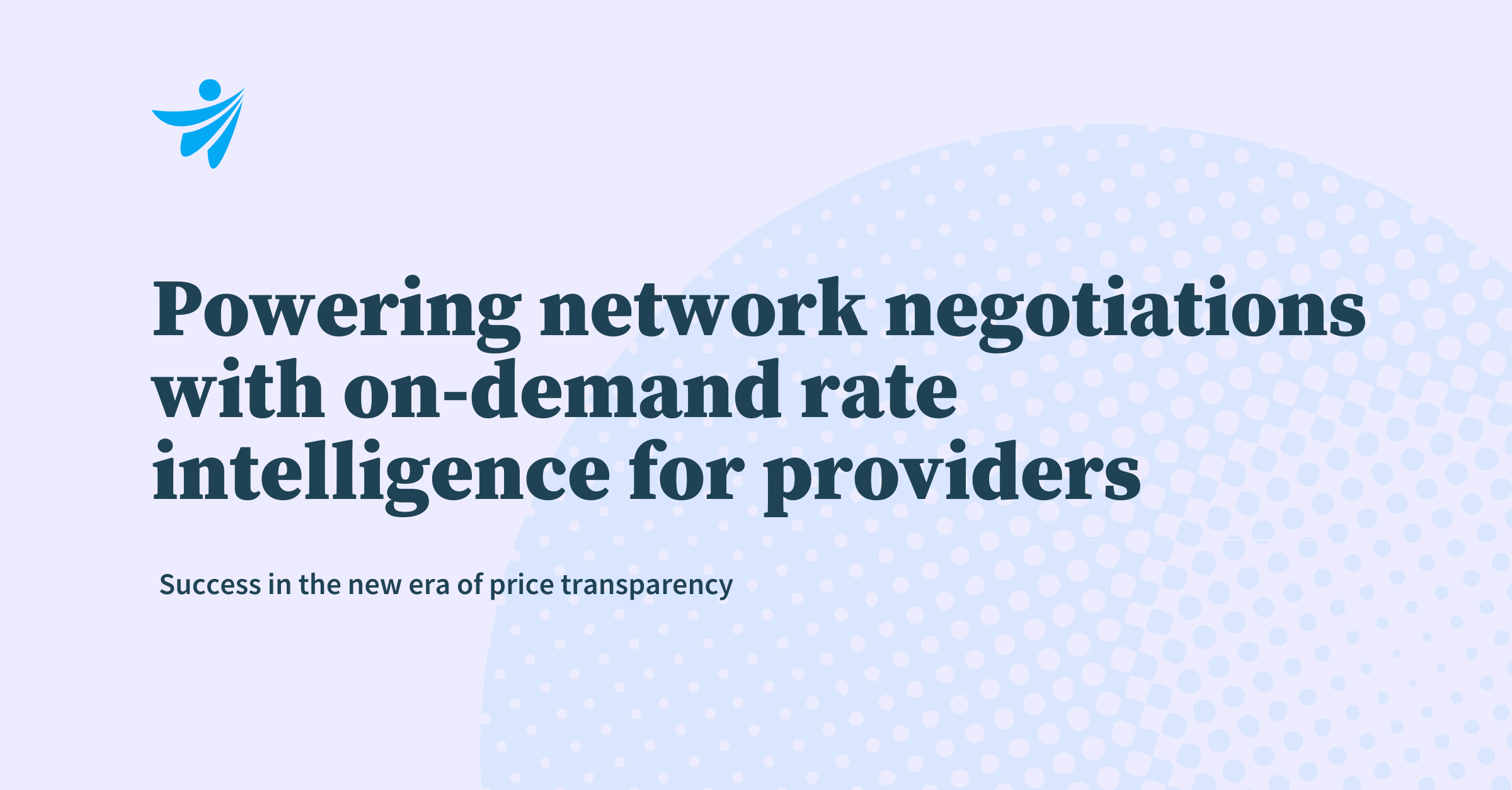 2021 launched a new era for healthcare price transparency. In January 2021, the Healthcare Price Transparency Act went into effect, requiring hospitals to publish their cash pay rates and rates negotiated with health insurance companies. In addition, the Consolidated Appropriations Act and No Surprise Act introduced a myriad of transparency and disclosure requirements for hospitals and health plans.
These heightened reporting requirements have the potential to increase consumerism, leading to greater scrutiny from payers and group health plans on the language and structure of contracts for pricing and rates. Moreover, health plans will be utilizing the increased pricing and performance insights for network design and negotiations. As a result, healthcare providers and systems will need to leverage rate intelligence to ensure market and financial competitiveness for favorable negotiations.
Unit rate benchmarking is table stakes; differentiated negotiating on the basis of Total Cost of Care is more effective
Providers need data-driven insights as leverage to strengthen their negotiation position. But relying solely on publicly reported rates data, manual analysis, and rates intel is not enough to drive commercial negotiations. Hospital networks and providers also need to complement rate intelligence with performance insights to demonstrate their value to payers on a total cost of care basis. This becomes a differentiated strategy because showcasing rates relative to the market defends the value of care provided.
Intel on competitor market rates alongside complete patient journey insights and provider performance benchmarks, from inpatient to outpatient care, enables pinpointing of the total cost of care and rate differentials. Leveraging rate intelligence and total cost of care benchmarks during the commercial negotiation process will corroborate negotiated rates for maintained market competitiveness. Comprehensive rate intelligence and hospital provider performance will strengthen unit pricing approaches and contract negotiations.
On-demand insights will be critical as other providers and payers look to leverage the publicly available rate data

Cloud-based analytics equip hospitals with the best information for negotiation positioning, increasing the prospect of attaining negotiated unit rates and increased revenue. Data-driven demonstrations of high-performing areas and below-market reimbursements enable better unit rate increase positioning.

 Over-reliance on publicly reported data and manual capabilities can result in inefficiencies that threaten the negotiation process. Relying on publicly available rate data wastes internal teams' limited time resources with aggregating, scrubbing, standardizing, and modeling data. And oftentimes, the developed insights aren't accurate, comprehensive enough, or have effective normalization and standardization for precise analysis. To avoid entering negotiations with information gaps, utilize machine learning insights with comprehensive datasets that are cleaned, corrected for anomalies, and enriched by fully adjudicated claims data.
With cloud-based performance and rates insights, more time can be allocated to negotiation positioning rather than data reviewing. Using rate intelligence and performance benchmarking software enables quicker and higher-value commercial negotiations. When seeking a rate intelligence solution, the following components should be included to ensure that the insights accurately contextualize and power your negotiations:
Allows case-mix adjusted total cost of care comparison for value demonstration
Delivers DRG/CPT- and NPI-level rates for comprehensive competitor comparison
Offers instant access to insights that can be used during the negotiation
Includes Payer-plan level specificity with industry-accepted metrics
Learn how Clarify Rates for providers delivers on-demand rate intelligence and benchmarks total cost of care against other providers in your market and the nation. The cloud-based analytics software provides instant insights, with a granular view into DRG/CPT and NPI-level rates across regional competitors. Clarify Rates is part of Clarify's provider growth suite of products, which also includes Clarify Markets and Clarify Referrals.