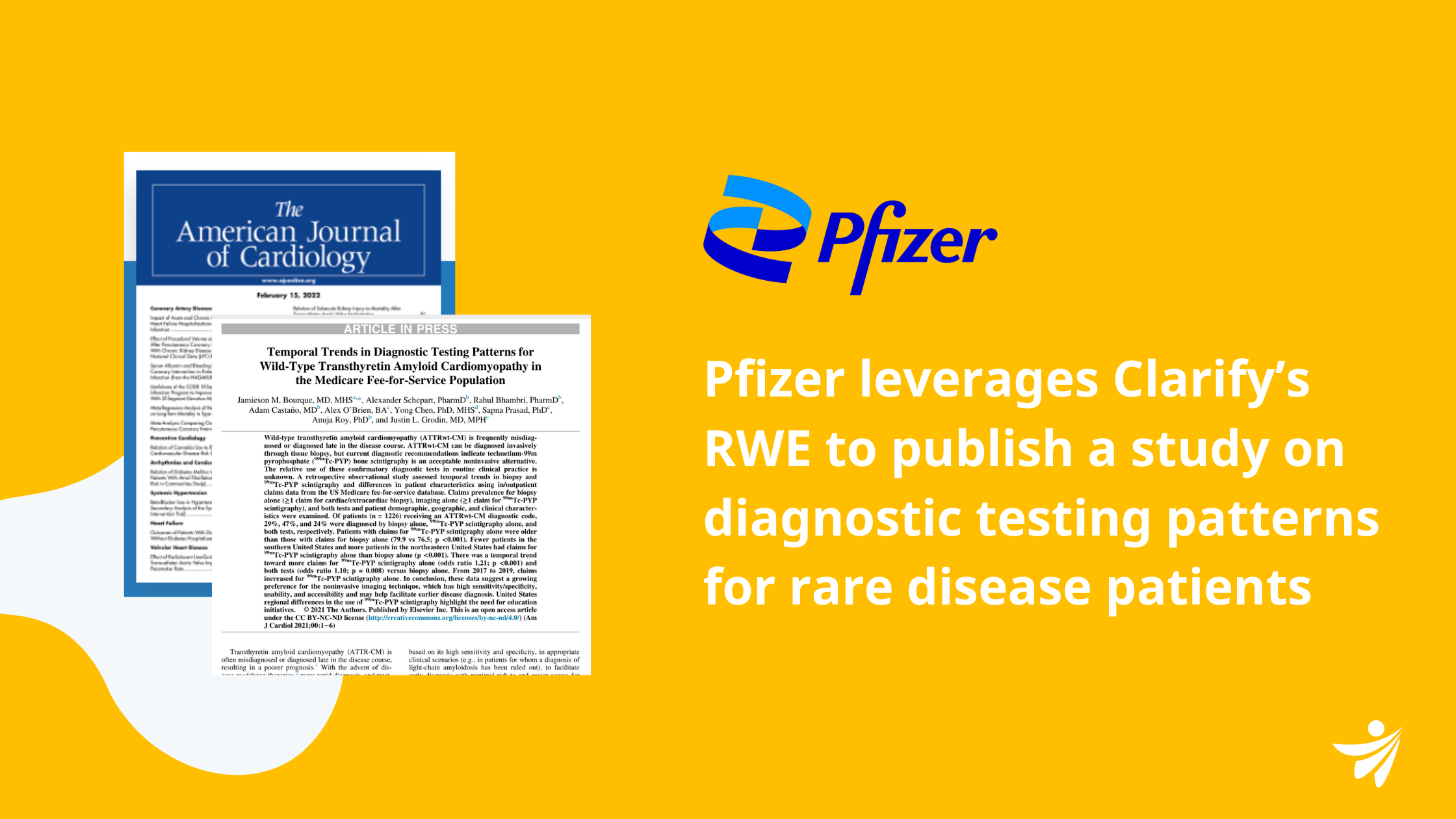 Pfizer partnered with Clarify on an observational study on diagnostic testing patterns in transthyretin amyloid cardiomyopathy (ATTR-CM) patients. This novel study is the first of its kind for ATTR-CM patients. In January 2022, the study titled, Temporal Trends in Diagnostic Testing Patterns for Wild-Type Transthyretin Amyloid Cardiomyopathy in the Medicare Fee-for-Service Population, was published in the American Journal of Cardiology.
ATTR-CM is a rare and potentially fatal disease that is underdiagnosed and often misdiagnosed. In the United States, Black Americans and older adult patients are at risk. Wild-type transthyretin amyloid cardiomyopathy (ATTRwt-CM) is frequently misdiagnosed or diagnosed in the late stage due to its similarities with other cardiac conditions and diseases. ATTRwt-CM can be diagnosed invasively through tissue biopsy, but current diagnostic recommendations specify technetium-99m pyrophosphate (99mTc-PYP) bone scintigraphy as an acceptable noninvasive alternative. However, the frequency of diagnostic use of tissue biopsy and myocardial scintigraphy in clinical practice is not yet well established.
This study found that usage of the less invasive diagnostic test, 99mTc-PYP, increased over time, while the use of the more invasive diagnostic method has declined. Findings suggest a growing preference for noninvasive imaging for the diagnosis of ATTRwt-CM. Increasing awareness of this diagnosis method could help get patients diagnosed and treated faster, which is critical given the common misdiagnosis.
Lighting the path to research on diagnostic testing for rare disease patients
Pharmaceutical companies need to have a comprehensive understanding of patients' access to their treatments, diagnostic testing patterns, and patient-physician interactions. Improving patients' access to therapeutics and patient-centered journeys help ensure better health outcomes and prognoses.
The research team leveraged Clarify's 100% Medicare Fee-for-Service data for insights on ATTR-CM diagnostic testing utilization within the United States. Clarify's longitudinal data permitted insights into time-based trends and an iterative approach for exploring a myriad of clinical outcomes, demographic attributes, and diagnostic patterns across the entire Medicare FFS population.
The team at Clarify performed sensitivity tests before and after protocol design to refine methodology and analyses and had them validated by leading practicing clinicians diagnosing and treating ATTR-CM patients to help guarantee that the study was grounded in clinical practice.
Learn how the Clarify Atlas Platform's real-world evidence and clinical informatics delivers precise insights for clinical development and commercialization teams. Atlas, powers 300+ million longitudinal patient journeys with machine-learning precision, enabling data flexibility for actionable RWE insights across commercially insured populations.
Read the full study published in the American Journal of Cardiology.