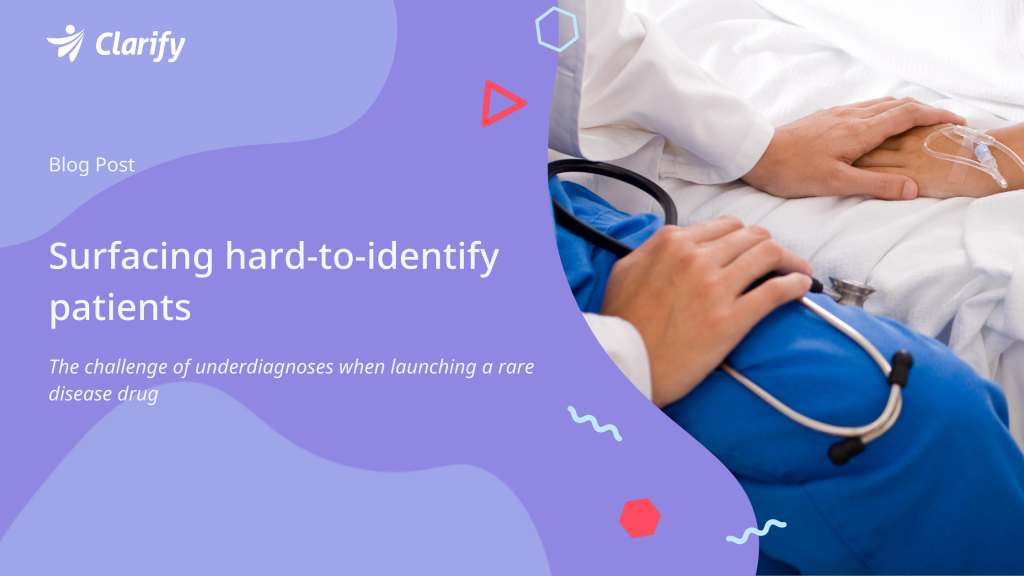 The challenge of underdiagnoses when launching a rare disease drug
There are 7,000 known rare diseases and 95 percent of them do not have any FDA-approved therapeutic. However, with greater government and regulatory incentives and more recent pharmaceutical success treating rare disease patients, there are more therapies coming to market now than ever before.
As launch teams prepare to enter these markets, they face the unique challenge of identifying patients with rare diseases. They have inherently small patient populations, affecting fewer than 200,00 people in the United States at a given time. They are harder to diagnose. Many patients go un- or mis-diagnosed for years. And, for brand teams, the journey that rare disease patients take can be elusive. All of these factors impact how quickly pharma companies can get life-saving treatments to patients who need them most.
Underdiagnosis is more common than you might think
Underdiagnosis is highly prevalent among even the most common conditions but is most acute for rare diseases. According to the Centers for Disease Control and Prevention (CDC), 21.4% of diabetes patients in the US are undiagnosed; and up to 11 million patients with hypertension are undiagnosed. However, underdiagnosis is even more common for rare diseases, especially those that are relatively new in terms of our epidemiologic understanding, such as in the case of Nonalcoholic Steatohepatitis (NASH).
NASH, a disease that leads to scarring of the liver and is a potentially life-threatening condition, remains underdiagnosed despite its growth in prevalence and rate of diagnosis. Clinically, NASH is difficult to diagnose because it presents with some ambiguity of symptoms. Diagnostic testing can be invasive, so it is often not done or not done soon enough. From a care management perspective, there is no tried and trusted care model for NASH screening. Moreover, there's no clear ownership over roles for managing NASH patients across specialties. These confounding factors result in underdiagnosis and ultimately undertreatment of the condition, which can accelerate disease progression.
Better understanding the journeys of rare disease patients
For brand teams, underdiagnosed therapeutic areas such as NASH present an access problem. In an effort to get therapies to the right patients at the right time, life sciences companies have made significant data and analytics investments to increase their visibility into the trends and intricacies of the patient journey. The more they understand the sequence of touchpoints that a particular patient cohort has with the health system, the better they can increase access to testing and treatment.
In recent years, technologists, data scientists, and industry experts have come together to tackle key challenges in healthcare analytics – low quality and incomplete data sets, siloed and non-interoperable systems, and cumbersome processes for extracting valuable insights. The new standard in precision analytics for life sciences offers speed, precision, and greater productivity. Brand teams that are enabled by precision analytics are best positioned to identify the right patients, even in an underdiagnosed treatment area such as NASH. Leveraging machine learning and big data efficiencies, brand teams can spot trends in prototypical patient utilization patterns, helping them identify HCPs treating like (and likely un-diagnosed) patients so they can engage and educate them at earlier stages in their patients' disease progression.
This case study illustrates how QED Therapeutics used precision analytics to identify eligible patients for infigratinib, a first-in-class treatment for a rare bile duct cancer called cholangiocarcinoma (CCA); as well as uncover the rate of genetic testing to inform QED's commercial strategy.
Learn more about how Clarify's precision analytics are revolutionizing the commercialization of pharma and biotech therapeutics.