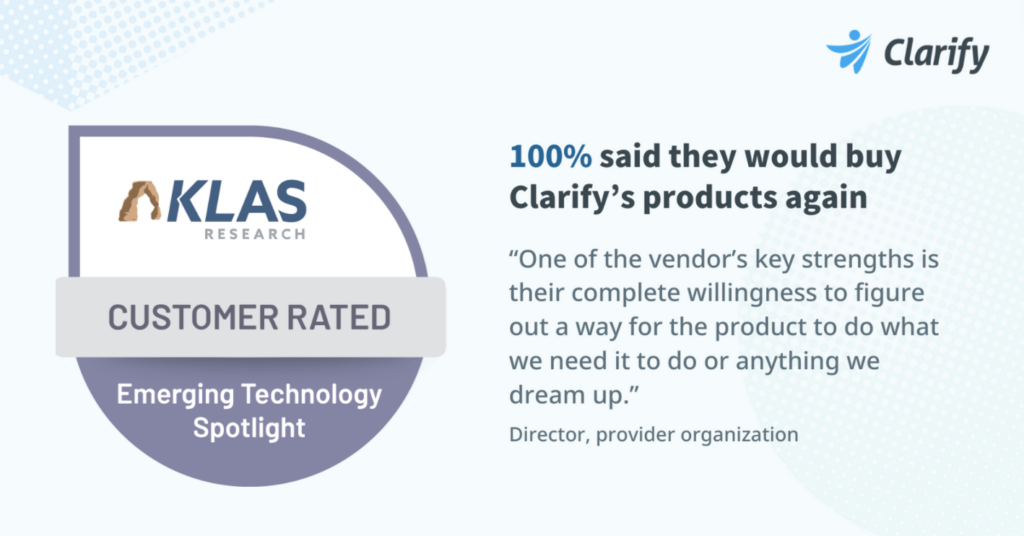 KLAS conducts in-depth customer research to identify emerging technologies that are having an impact in healthcare IT. In March 2022, KLAS evaluated Clarify Health in its Emerging Technology Spotlight report. Clarify's customers were asked to evaluate its software across several dimensions, including overall satisfaction, return on investment, product functionality, and likelihood to recommend or buy its products again. The research firm interviewed 15 individuals from 10 of Clarify's provider and payer customer organizations; 40% of the respondents were from payer organizations, 40% from hospitals, and 20% from academic health systems. Here is what they told KLAS:
100% said they would buy Clarify's products again
100% said they are using Clarify's precision analytics to answer business questions and/or drive strategy and execution
93% said they were highly satisfied or satisfied
64% said they saw outcomes within 6 months, 86% within 12 months
Clarify's customers also shared their top reasons for selecting the platform, which included its large and usable datasets, product flexibility, risk adjustment specificity, and social determinants of health (SDOH) insights.
"One of the vendor's key strengths is their complete willingness to figure out a way for the product to do what we need it to do or anything we dream up." — Director, provider or payer organization

"Clarify Health is well-positioned to assist organizations in managing their transition to VBC reimbursements." — Mike Davis, HCIT market research and analysis expert with 40+ years of experience

"[Clarify Health] has unique access to large data sets and leverages them to draw insight around a provider's performance relative to their peers." — VP/executive, provider or payer organization
Read KLAS's Emerging Technology Spotlight report to view the complete findings:
Clarify Health Atlas Platform Customer Experience: An Initial Look
KLAS' Points to Ponder
Clarify Health: Company Profile at a Glance
Solution Technical Specifications (provided by Clarify Health)
Thanks to our customers for providing honest feedback on their experience with our company and products!
About KLAS Research
 Since 1996, KLAS has been providing accurate, honest, and impartial insights for the healthcare IT (HIT) industry. The KLAS mission is to improve the world's healthcare by amplifying the voice of providers and payers. The scope of its research is constantly expanding to best-fit market needs as technology becomes increasingly sophisticated. KLAS finds the hard-to-get HIT data by building strong relationships with payer and provider friends in the industry.