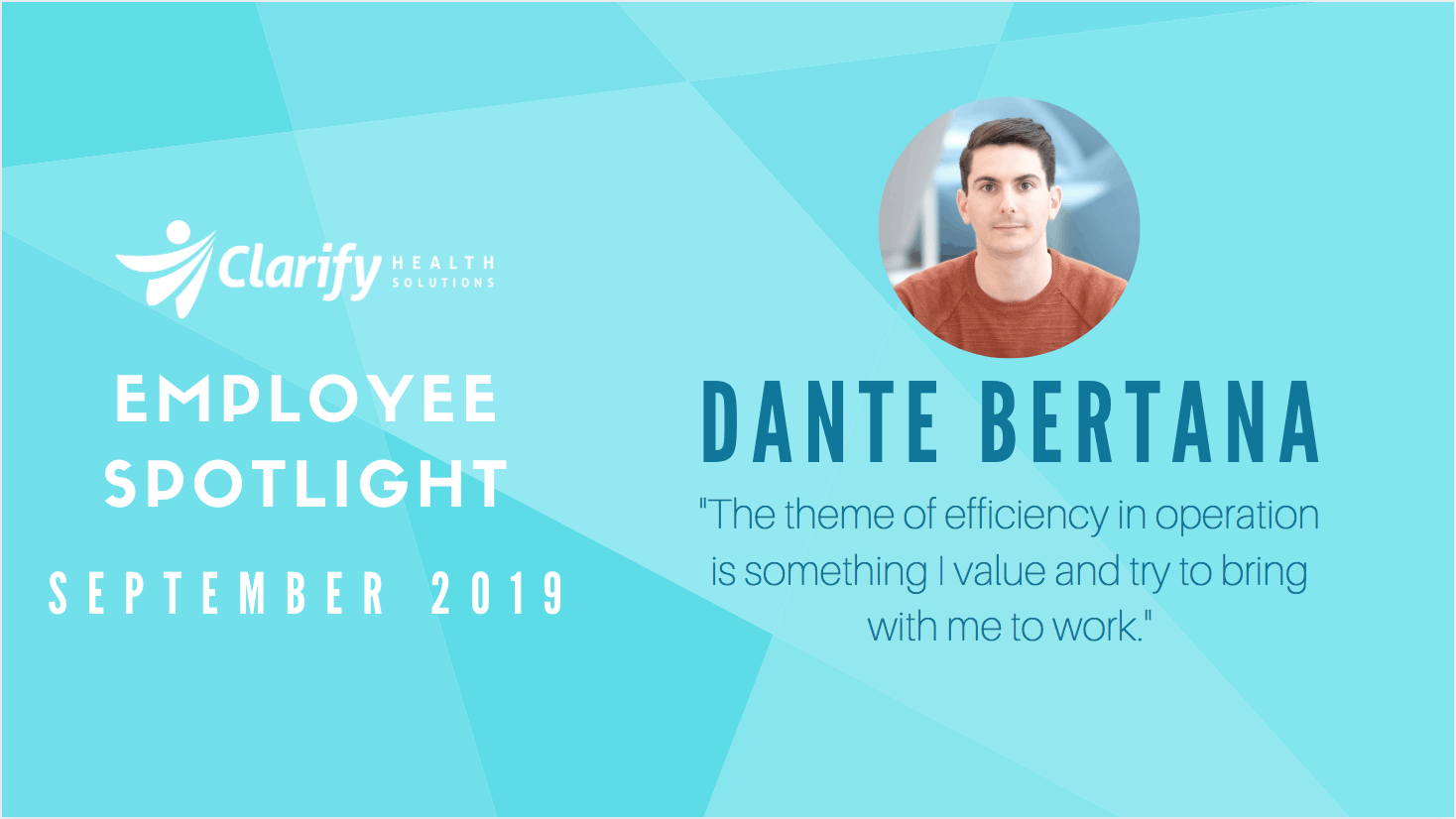 1. What is your position at Clarify and what do you do?
I am an IT Analyst at Clarify Health. Being part of a small team means wearing many different hats. My responsibilities include new hire IT onboarding, application support, AV support, deploying AWS resources for internal applications, and security and compliance. In short, I grease the wheels of the company and support the business to keep forward momentum.
2. What excites you most about Clarify?
The theme of efficiency in operation is something I value and try to bring with me to work. Clarify is bringing this theme of efficiency to the medical and care fields, where it is much needed and appreciated. The tools that Clarify builds help payers, providers, and life science companies most efficiently spend their resources to provide the highest level of care.
3. How did you hear about Clarify/How did you get here?
I found out about Clarify through an external recruitment agency. I haven't previously worked in healthcare tech and was interested in exploring a new industry. Everything lined up for me in the role, and I joined the team!
4. What aspect of your role do you enjoy most?
I enjoy the breadth of tasks that I'm responsible for. I find the day to day invigorating when there are several hats and priorities to juggle. Being in IT gives me interesting perspective into the company and teaches me about the industry in a hands-on way.
5. What project have you worked on here that you're most proud of?
My favorite project was working on our office move, which was just completed. I am proud of my work in this project because it positively impacted the company as a whole. Our office space doubled in size and was a huge milestone for the company and speaks to the growth our company is experiencing. I received lots of positive feedback, which helped during the long hours we spent on the project. It involved a lot of planning for capacity, network design, vendor engagements, and more.
6. If you weren't working at Clarify or in healthcare/technology in general, what would you be doing?
I couldn't say for certain, but I think it would involve welding, a lathe, and a milling machine.
7. What is something people would be surprised to know about you?
I was a professional drummer for a quick minute.
8. What's your favorite app?
Robinhood! It makes stock trading feel like legalized gambling.🙂
9. Where is the coolest place you've traveled?
Cuba was quite the experience! The country is charming and beautiful through and through, but my favorite part was hearing the locals' perspective of the USA and of capitalism. If you like raw, slightly gritty places and want to be humbled by the resourcefulness of people 90 miles off the coast of the United States, I'd recommend taking a trip!
10. Salty or sweet?
Salty all the way. I'm hard pressed to pass up on a bag of Corn Nuts from the snack bin!
11. Favorite book, movie, and musician/band?
Book: I'm currently reading 'Sapiens' by Yuval Noah Harari. The book talks about how humans evolved from early cave dwelling Homo Sapiens to a modern day Allbirds wearing, Salesforce Tower building culture that we are today.
Movie: I don't watch many movies, but Arrival from 2016 was great. It had a pleasing ratio of sci-fi, surrealism, and adventure.
Favorite band: I'm really digging the music of BLAck pARty these days. Check out the album Endless Summer! The album pairs well with being outdoors on a warm night.