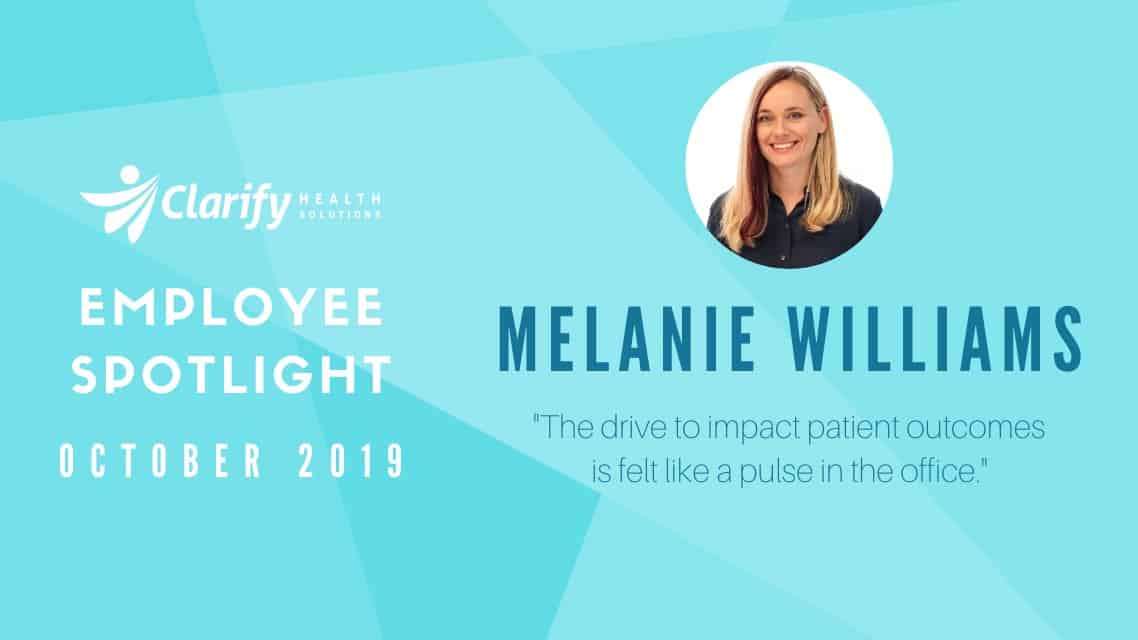 1. What is your position at Clarify and what do you do?
I am a Principle Designer at Clarify Health focusing on creating excellent experiences for our customers. I focus on taking one of the largest healthcare data sets and wrapping it in software that is incredibly intuitive and flexible in order to unlock insights for payers and providers that can drive better patient care.
2. What excites you most about Clarify?
The drive to impact patient outcomes is felt like a pulse in the office. The design of healthcare software has been historically de-prioritized, creating a sub-par standard for usability. We are changing that at Clarify, and I am proud to be a part of the small design team who listen deeply to what our customers crave and develop an analytics tool that is already impacting the way people work.
3. How did you hear about Clarify/How did you get here?
I originally heard about Clarify health through my network of designers. Before Clarify, I had the great fortune to design products and services across many industries at frog design. The years spent listening to patients' experiences around managing diabetes, rare diseases, and injectable medication have stayed with me. These stories remind me that as a designer, I can affect these experiences and moments, and they drive me to use my impact in a way that can improve people's lives.
4. What aspect of your role do you enjoy most?
I love working with people, and, as a designer, I obsess over people's needs. Whether that's patients, physicians, analysts, or my co-workers, I love the inquisition and discovery around the underlying driver of these needs and then work to craft the simplest solution. I believe that product design is a collaborative activity and is fueled by multiple perspectives coming to the table, and I love to orchestrate those moments for problem-solving.
5. What project have you worked on here that you're most proud of?
I am currently working on a new feature release that will change the way payers, providers, and life sciences assess performance and inform strategy and action. One of the challenges is to create a cohesive, flexible solution that works for MANY different personas and use cases, and I think we're starting to do that with this new feature. I have really enjoyed working across multiple teams to align on their shared goals and create a strategic feature development plan.
6. If you weren't working at Clarify or in healthcare/technology in general, what would you be doing?
If I weren't in tech, I would probably combine my love for art and American Sign Language. I would love to teach a painting class for Deaf and hearing youth to build a space for creativity and acceptance to flourish. Painting has been a beautiful outlet and source of joy for me over the years, and I love nurturing that in others.
7. What is something people would be surprised to know about you?
I studied ballet for 20 years; en pointe for 10.
8. What's your favorite app?
Headspace. Sweet lessons on balance + British accent
9. Where is the coolest place you've traveled?
Kenya: Nairobi and Baringo county for 4 weeks
10. Salty or sweet?
Salty. Everything bagel > doughnut
11. Favorite book, movie, and musician/band?
Book: The most influential book I've read recently is "Evicted" by Matthew Desmond
Movie: The Beginners (Tied with "Threat Level Midnight")
Music: Tracy Chapman / Sia / Khalid