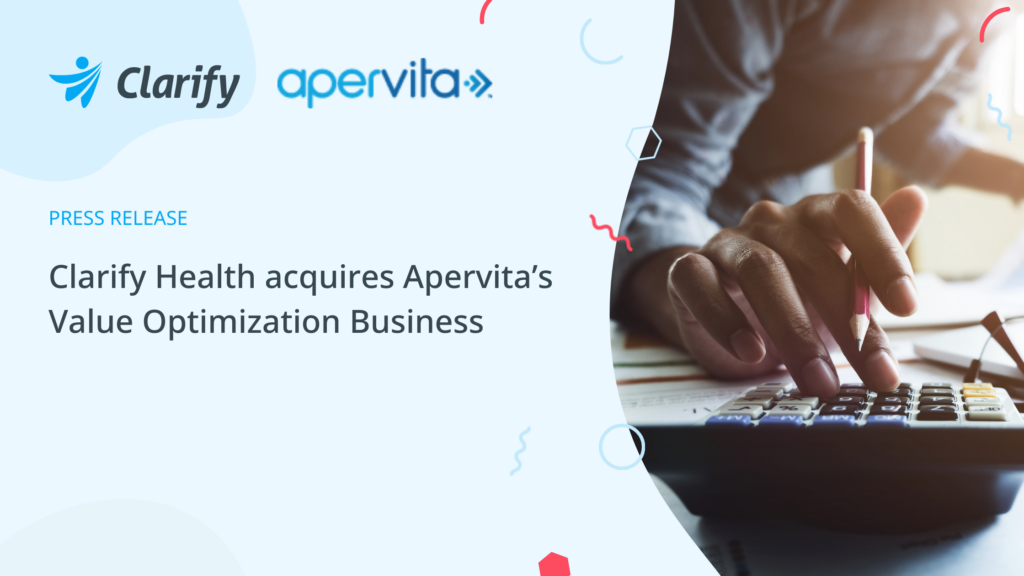 Clarify Health is excited to announce that we have acquired Apervita's Value Optimization business. This acquisition bolsters our integrated healthcare analytics platform for end-to-end value-based contract design, payments reconciliation, clinical performance assessment, and reporting. Our Value Solution combines the industry's most robust clinical performance and utilization benchmarks with precise financial insights into a single source of truth that enables payers and at-risk providers to drive better care and outcomes. 
With our Unified Value Platform, health plans will be able to streamline contract design, pinpoint opportunities to improve care, precisely calculate contract performance, and dynamically track and report progress. Folding in Apervita's value-based payments reconciliation capabilities with Clarify's cost, quality, and outcomes performance insights will connect the dots between clinical action and financial impact. 
"Our health plan and value-based customers' needs are increasingly complex, driven by intricate analytics requirements across multiple provider contract types. A trusted platform that can objectively and transparently analyze data from plans and providers is a foundational enabler to the success of new payment models. We are excited to welcome an experienced team that will further accelerate Clarify's delivery of innovative payment and clinical improvement solutions." said Jean Drouin, MD, CEO, Clarify Health.
Read the full press release announcing the acquisition here.