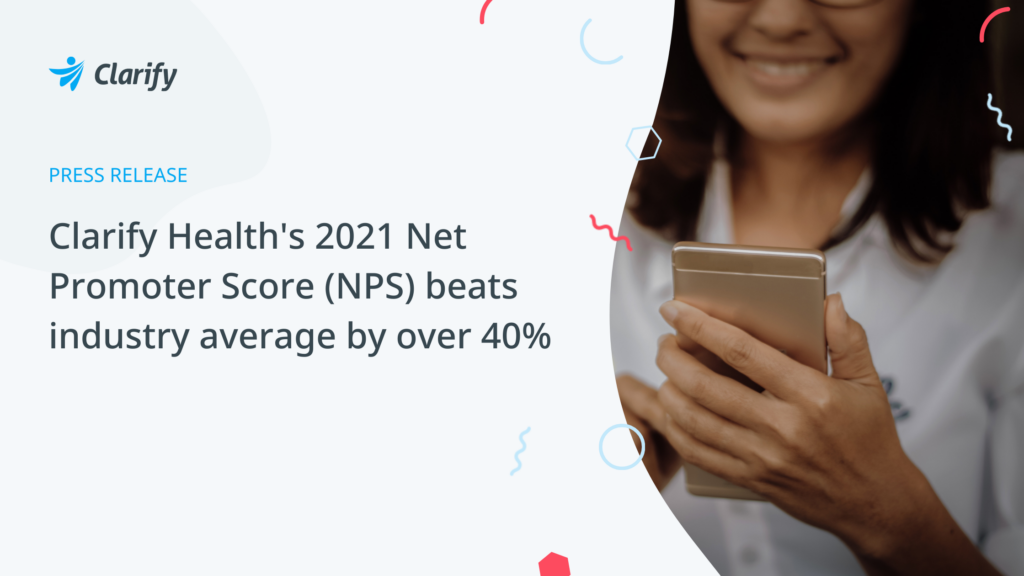 Clarify Health is proud to announce that our Net Promoter Score (NPS) survey results exceed the healthcare industry benchmark and SaaS industry benchmark for the fourth consecutive assessment. NPS is widely utilized as a barometer of customer satisfaction. These results demonstrate our commitment to our customer's success and the ability of our platform to delight users while delivering maximum return on investment.  
The Net Promoter Score is based on responses to a single question: How likely is it that you would recommend our product to a friend or colleague? Scores can be as low as −100 (for detractors: those who are most likely to churn and speak negatively) or as high as +100 (for promoters: those who are most likely to promote the company and serve as a reference). 
Clarify's current NPS is 44% greater than the average healthcare company score of 27 and 30% greater than the average SaaS company score of 30.
Common themes from our NPS feedback include:
Ease of implementation and adoption: 

"Clarify has succeeded where I've seen other healthcare SaaS companies fail, with your team's top-notch training and ongoing support."

Customer service: 

"Clarify has made a great effort to accommodate our needs from the very beginning, and everyone on the team has been a pleasure to work with."

Trust

: "Unlike past vendors, Clarify's data is fully transparent. It creates a level of trust in the data that allows me to leverage the analytics with confidence."
We are thankful to our customers for their continued partnership and are committed to finding ways to new ways elevate the client experience as we work to improve healthcare together. 
Clarify Health is the #1 trusted source of enterprise analytics for payers, providers, and life sciences organizations. Learn more about why customers choose us here. 
Read our press release announcing our NPS results here.