As the US health system evolves toward a more patient-centered approach to health, the adoption of value-based contract models maintains momentum. Whereas the traditional fee-for-service healthcare payment model rewards quantity by tying payments to the types and volume of services provided to patients, value-based care (VBC) contracts align healthcare provider reimbursement with quality and cost-effective care. The chief focus of value-based care is to promote efficiency that lowers costs while also reducing waste and improving patient journeys and outcomes. Value-based care models use metrics such as avoidable readmissions to measure patient outcomes and provider performance. While good in theory, value-based models are difficult to scale due to the complexity of designing, contracting, and managing value-based contracts. In this post, we'll outline the forces driving value-based contracts, the types of value-based models, and the technologies that are helping drive adoption by solving for some of the complexity.
Public and private stakeholders are driving the transition to value-based contract models
In the past decade, we've seen stakeholders from across the industry investing in and setting out new frameworks for alternative payment models like value-based and shared-savings programs. On the government side of the spectrum, the Centers for Medicare & Medicaid Services (CMS) has led the development of value-based contracting through programs and incentives that connect payments to quality outcomes of Medicare patients. Their aim has been to improve individual health, improve population health, and lower healthcare costs.
In the private sector, we've seen health insurance providers develop their own value-based payment models. For example, Horizon Blue Cross Blue Shield of New Jersey (Horizon BCBSNJ) uses advanced shared-savings models as a means to better serve providers and members. Partnering with Clarify Health, they use clinical performance analytics software to share actionable performance insights to help them improve care interventions, performance transparency, and promote shared-risk payment models.
We've also seen collaboration in the form of action committees and policy groups. In 2015, public and private payers, providers, purchasers, patients, product manufacturers, and policymakers formed the Health Care Payment Learning & Action Network to accelerate the adoption of alternative payment models (APMs), a term synonymous with value-based contracts. Their purpose is to drive the implementation of these models to improve patient journeys, reduce barriers in healthcare and promote value with shared accountability.
Types of value-based care contracts
A value-based contract is an agreement that ties the cost of a healthcare service or therapy to specified outcomes rather than volume. Studies indicate that 34% of every dollar paid to providers is tied to a reimbursement contract with a performance clause.
There are multiple established models, and payment specifics often vary based on mutually agreed terms, shared goals, and risk alignment. However, most contracts and payments are generally aligned to value in care through measurable health outcomes. The measurable health outcomes are often based on cost of care, quality of care, and patient satisfaction. Often these contracts:
Identify measurable outcomes mutually agreed upon by payers, providers, or life science companies that reflect the clinical or economic benefits expected from a health care service or therapeutic service.
Define the measurement, in real-world populations, for the specified outcomes and include the specifications for data sources and data used, as well as the threshold for favorable and unfavorable outcomes.
Specify a formula that determines the net price for goods and services rendered to be reimbursed. The payment of the net price is contingent upon the achievement of specified measured outcomes.
Addressing the complexities of value-based contracts is imperative to gaining traction as providers adopt value-based care
Value-based contracts are complex, with multiple mechanisms required for successful implementation. The value-based contract model design is a critical component of any payment scheme —selecting the methodologies, metrics, and outcomes that align performance, stakeholders' risk, and outcome thresholds require keen insight that narrow in on specific patient cohorts.
The value-based contract is a mechanism used to influence and reward for delivery of value-based care. Insights and identification of interventions that can lead to positive health outcomes are necessary, and this requires:
Mutual agreement and understanding of the outcomes being measured
Progress related to the defined metrics
Relevant actions and interventions that can positively impact the measurable outcomes
However, there are multiple VBC models, and each has strengths and weaknesses based on patient cohorts, line of business, and contract terms, such as risk corridors, risk adjustment, and attribution methods. As a result, every VBC contract is a "snowflake" that must account for the variability in possible arrangements across the various payer and provider models.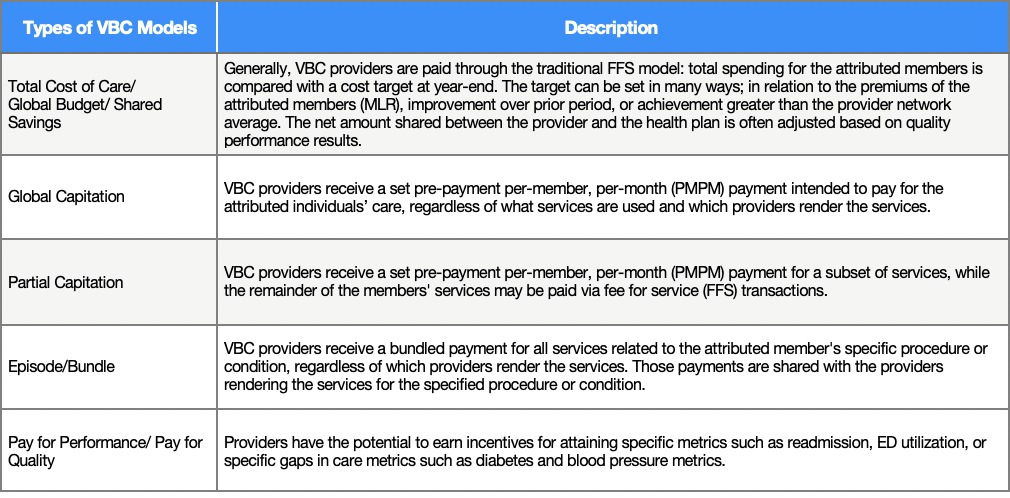 Other factors that impact adoption include data collection, aggregation, and analysis capabilities. Due to the significant resources required in collecting, aggregating and cleaning data, solely relying on internal teams might be an inefficient utilization of capacity.
Value-based contracting analytics provide a solution to simplifying value-based care
Transitioning to a value-based care model has become a central objective for many health plans, providers, and life science companies. However, in-house business units often lack data collection, cleaning, and on-demand precision insights for undemanding VBC performance management. As a result, collaborating with proven health analytics partners provides the advantage needed to design, manage and reconcile contracts.
 Collaborating with a healthcare analytics company that offers VBC solutions provides:
Simplification of data collection, cleaning, and aggregation
Ease-of-use
Precision analytics for effective VBC design and successful outcomes
Download our Value-Based Solutions Buyers guide for a free framework you can use to outline your needs and evaluate solution providers.