As reliance on clinical trial data alone becomes considered inadequate to thoroughly assess the effectiveness of therapies, applications for real-world evidence (RWE) are increasing. Real-world evidence companies are partnering with regulators for registration decision-making and the monitoring of adverse events. Payers use RWE for coverage and payment decisions. For the pharma industry, it is valuable in recruiting diverse and representative populations into clinical trials, understanding a therapy's usage once launched into the market, and continuously evaluating its effectiveness.
RWE is helping many healthcare stakeholders precisely answer critical questions that were previously heavily dependent on data from clinical trials:
How safe and effective is this treatment for diverse communities?
How can better treatment decisions be made for specific patient segments?
How can healthcare be made more accessible?
How can care be customized to patients' unique needs?
It is now widely accepted that it is vital to start thinking about RWE in pharma as early as possible in the drug development process and to leverage it throughout the development and commercialization stages. Traditionally, pharma would use RWE in Phases I and II of the clinical development process when the team is thinking about the epidemiology of the disease and the disease burden. Most teams would then put RWE aside and return to it again at launch, whereas the most pioneering and forward-thinking leaders believe that the integration of RWE needs to be early and constant.
The top 50 pharma organizations are beginning to focus on using RWE across the entire lifecycle of a molecule, from development through line extensions. When put into practice effectively, the 'start-early' approach ensures that launch teams are prepared to hit the ground running as soon as marketing authorization is reached.
Clarify's RWE software and services offer a single source of truth for evidence that customers can come back to time and again throughout a drug's lifecycle. For example, commercial teams use Clarify's RWE software for upcoming drug launches to continuously strengthen payer value messaging, better focus HCP outreach, and refine HCP targeting.
So if the benefits of integrating RWE are so evident, why don't we see more robust RWE adoption trends across all the functions within pharma? To answer this question, Clarify Health recently conducted a poll of 35 commercial, HEOR, and RWE experts, from more than 25 different top 50 pharma companies.
The participants were asked, "For which of these commercial and medical activities do you rely on RWE the most today?"

46% said they rely on it most to create value stories to advance market access and payer coverage. In contrast, fewer participants shared that they used RWE to support identifying patient segments and cohorts and identifying and engaging HCPs and KOLs. 0% said they used RWE to better target HCPs and HCOs.
Real-world insights into socio-behavioral determinants of health
In another poll question, the audience was asked, "What types of SDoH data do you use today?"

85% said they used inherited demographic traits, while other SDoH factors were less commonly used. However, all participants agreed that understanding a patient's journey, inclusive of medical, social, and behavioral factors, is a more precise way to identify the right patient for the right therapy at the right time.
Sample of SDoH attributes that decorate Clarify's patient journeys:
Many factors beyond inherited demographic traits impact a patient's journey. Below are examples of the SDoH elements that decorate Clarify's patient journeys.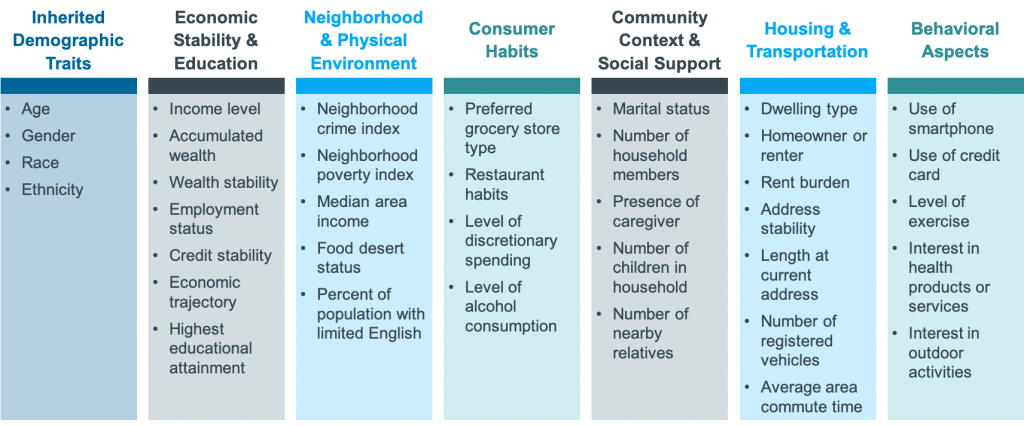 While participants were interested in using many of these data, a common challenge was not having access to the data and not being able to use it in a de-identified way to draw patient-level insights.
Barriers to leveraging RWE in pharma
Many pharma companies agree that they have lots of data—from clinical trials and other sources—but RWE is not readily accessible. When asked, "What is your biggest barrier to leveraging RWE today?" poll participants answered: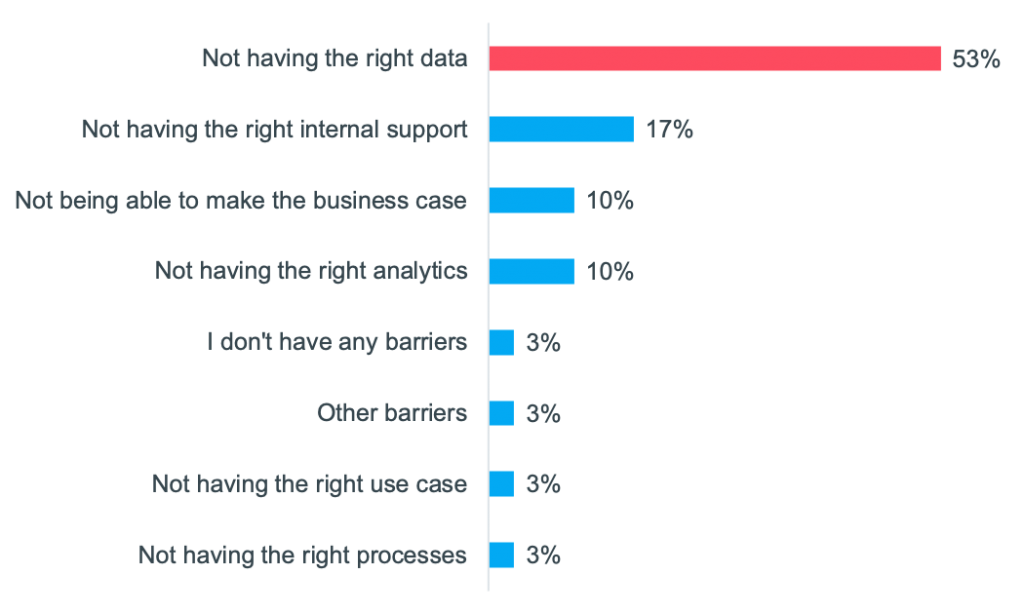 53% said not having the right data is their most significant barrier and 17% said not having the right internal support is. One participant explained that the data needed to build her case is often not captured. Even though millions of data are captured in registries, it is not always the right data to provide meaningful results. For example, she spoke about longitudinal studies and wanting to use RWD to adjust for medication, dose, or enzyme levels, but that data is not always available.
Another participant said that her challenge in getting the correct data centered around patient privacy and access to these data. While patient consent is used to collect clinical trial and other data, another way that Clarify enables use of RWE is to de-identify the underlying data. By tokenizing patient data from different sources so that they're de-identified and then linking them together at the patient level, users can access a 360-degree view of every de-identified patient journey to guide the best decisions at every step of a drug's lifecycle – from development to indication expansions.
RWE use will accelerate
The US Food and Drug Administration has acknowledged the value of RWE in informing regulatory approval of new therapies. In fact, the last two and a half years of the pandemic have accelerated the use of RWE in developing and regulating COVID-19 treatments and vaccines.
The future will see RWE play a supportive role from R&D to clinical trials, drug registration and commercialization, accelerating the improvement of access to therapies for patients, and resulting in better health outcomes.