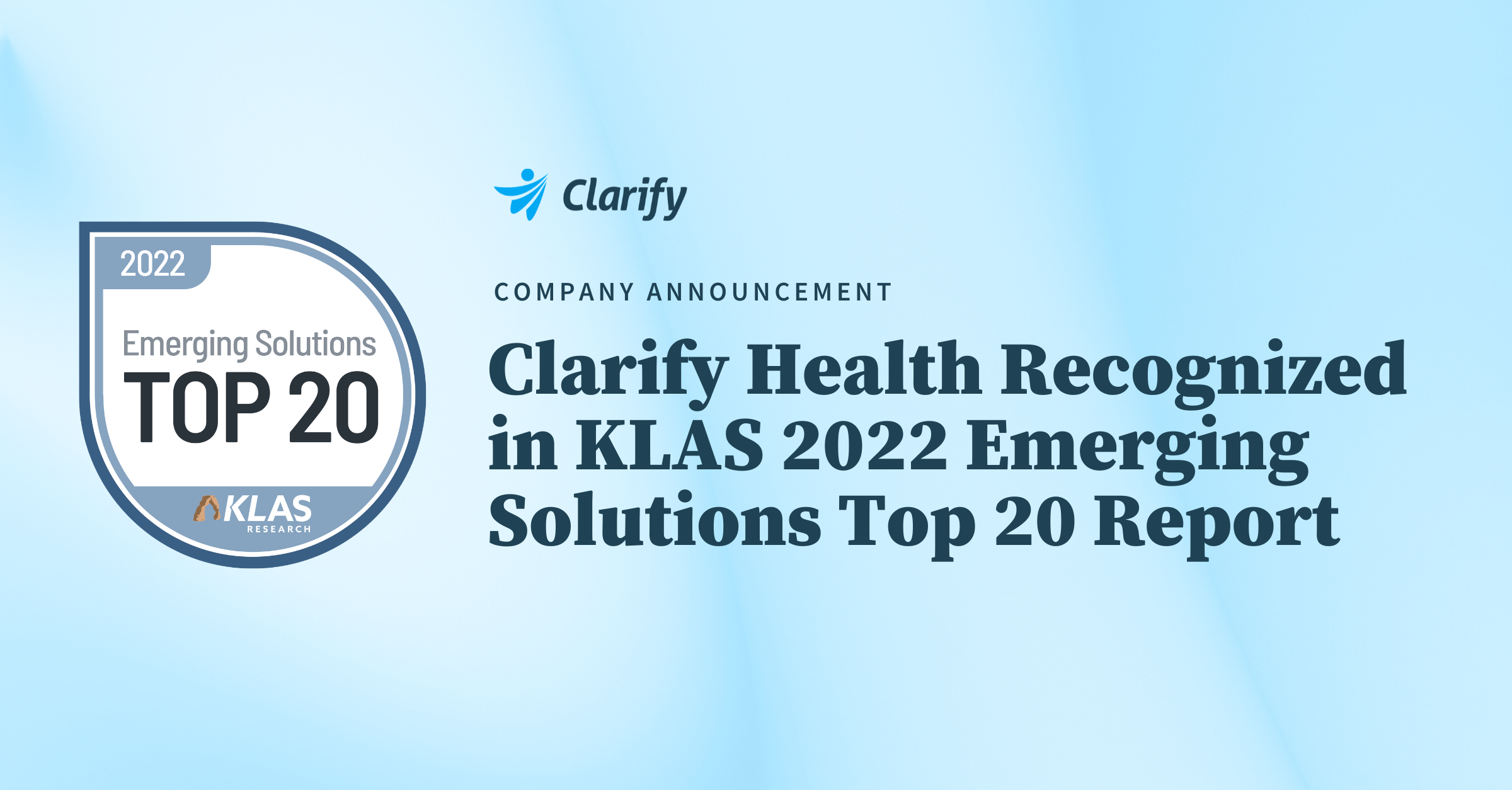 SAN FRANCISCO, September 14, 2022 – Clarify Health, a leading cloud analytics and value-based payments platform company, was recognized in the 2022 KLAS Emerging Solutions Top 20 Report. The top 20 emerging solutions were selected by healthcare leaders across the county with the help of KLAS. Solutions were evaluated based on their potential to disrupt the healthcare market and rated by how well they could impact the Quadruple Aim of Healthcare. This aim is to improve outcomes, reduce the cost of care, improve patient experiences, and improve clinician experiences. Clarify ranked as a top 5 solution provider for two of the four Quadruple Aims: Reducing the Cost of Care and Improving Outcomes.
Adam Gale, CEO, KLAS, commented: "Because KLAS believes in the power of technology to improve healthcare, it only made sense to research emerging, new solutions. We set out to help providers cut through the hype in this market and we found some new technologies with real capabilities. The recent Top 20 report highlights those solutions with the greatest potential impact according to healthcare leaders."
C-level/executive provider leaders were asked to read about the experiences of each company's actual customers and rank them. After reading about Clarify's customers' experiences, documented in the KLAS 2022 Emerging Technology Spotlight report on Clarify Health, the reviewers commented:
"The Clarify Health solution seems really nice for organizations that either have limited analytics or BI capabilities or want to outsource or substantially augment their analytics capabilities." —Non-customer C-level/executive
"Data aggregation through a cloud-based delivery mechanism is valuable, specifically for organizations that don't have a robust data team. Alignment with value-based purchasing contracts provides high value to organizations. Clarify Health appears to offer a high level of responsiveness and performance." —Non-customer C-level/executive
"We're thrilled to be recognized by KLAS in the 2022 Emerging Solutions Top 20 Report," said Jean Drouin, MD, CEO and Co-Founder, Clarify Health. "KLAS continues to provide an objective and buyer-centric view of the healthcare IT market. Clarify's ranking by C-level/executive provider leaders as a top provider for reducing the cost of care and improving outcomes aligns with our mission to optimize the patient journey."
In the 2022 Emerging Technology Spotlight report, 100% of Clarify's customers told KLAS they would buy the company's products again. Their top reasons for selecting the Clarify Atlas Platform included its large and usable datasets, product flexibility, risk adjustment specificity, and social determinants of health (SDOH) insights. Clarify's customers said:
"One of the vendor's key strengths is their complete willingness to figure out a way for the product to do what we need it to do or anything we dream up." — Director, provider or payer organization & Clarify customer
"Clarify Health is well-positioned to assist organizations in managing their transition to VBC reimbursements." — Mike Davis, HCIT market research and analysis expert with 40+ years of experience & Clarify customer
"[Clarify Health] has unique access to large data sets and leverages them to draw insight around a provider's performance relative to their peers." — VP/executive, provider or payer organization & Clarify customer
Read why Clarify was named a top five solution provider for reducing the cost of care and improving outcomes in the KLAS report here: https://klasinsights.com/etech-top20.
About Clarify Health
Clarify Health is an enterprise analytics and value-based payments platform company that empowers payers, providers, and life sciences companies to deliver better care, therapies, and outcomes with actionable patient journey insights. Clarify's cloud-based business applications are built on the Clarify Atlas Platform, which maps 300M+ patient journeys to deliver 18B+ AI-powered predictions and surface insights with speed and precision. Clarify's products illuminate actionable opportunities to drive growth, optimize networks, improve care delivery, manage population health, maximize value-based care performance, and bring therapies to market. With Clarify, healthcare organizations can leapfrog from point-solution and manual analytics to self-service, rapid generation of enterprise insights that light the path to better care and outcomes. Learn more at clarifyhealth.com.
About KLAS:
KLAS is a research and insights firm on a global mission to improve healthcare. Working with thousands of healthcare professionals and clinicians, KLAS gathers data and insights on software and services to deliver timely reports and performance data that represent provider and payer voices and act as catalysts for improving vendor performance. The KLAS research team publishes reports covering the most pressing questions facing healthcare technology today, including emerging technology insights, that provide early insights on the future of healthcare technology solutions. Follow KLAS on LinkedIn. Learn more at: klasresearch.com.
Media Contact
Angelica English
[email protected]