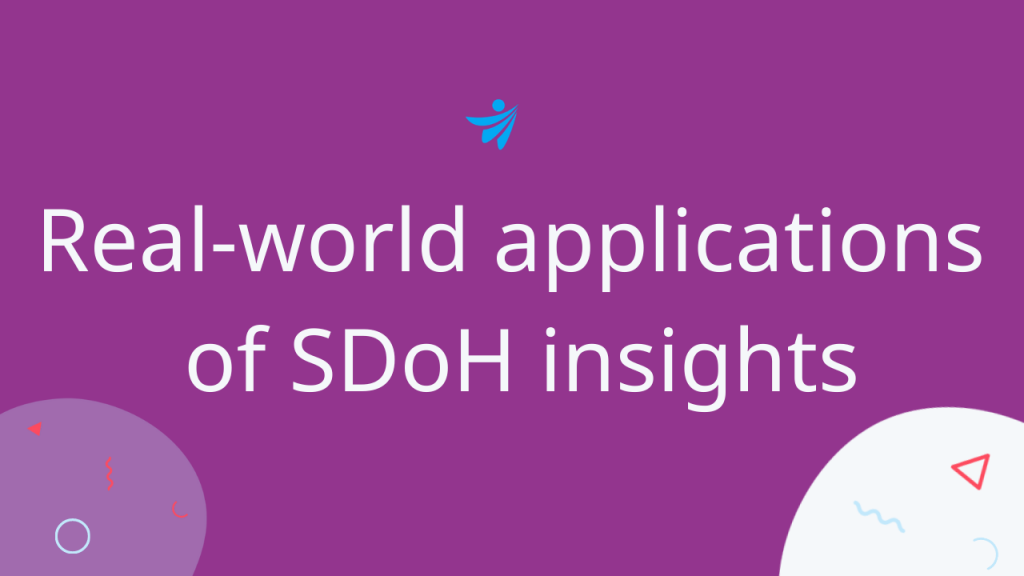 In March 2021, the American Journal of Managed Care (AJMC) published new research on the association between social determinants of health (SDoH) and health outcomes. The study revealed that different SDoH factors influence populations to varying degrees. For example, it found that for the population younger than 19 years of age, the largest contributors to health care costs were social, economic, and environmental factors, such as unemployment and single-parent households. However, for the population, 65 years and older the largest contributors to cost were health outcome factors (e.g., perceived health).
Many healthcare and life sciences organizations recognize the impact of top social determinants of health on outcomes and cost, prompting them to invest in programs to address the non-clinical factors in patients' lives. As an example, RWJBarnabas Health announced a few months ago that every single patient that heads into one of its facilities will be screened for social determinants of health and referred to services for ongoing support as needed.
Turning SDoH insights into action is an emerging long-term priority for most healthcare and life sciences organizations. A study in Health Affairs estimates that health systems have invested at least $2.5 billion annually on SDoH programs targeting a range of needs including, housing security, employment, education, food security, social and community support, and transportation.
We need to account for SDoH when we evaluate health outcomes
Traditionally in healthcare, we have predominantly used clinical data to evaluate health outcomes because it is the most easily accessible for analysis. However, given that a patient's care journey is 80% dependent on non-clinical factors, we need to account for them in our models.
Research shows that looking beyond clinical data into factors such as sociodemographic, psychological, behavioral, or community allow for a clearer picture of health. That is why Clarify Health has spent years creating the most SDoH-decorated dataset in the industry. Using machine learning, we clean and link individually attributed, longitudinal SDoH data with clinical, claims, and prescription data at the patient level. Our predictive models are powered with SDoH-decorated, longitudinal care journeys for 300M+ unique lives. Using this approach, we provide a more complete picture of patient wellness, a better understanding of current and future patient risk and outcomes, accurate forecasting of healthcare cost and utilization, and insight into therapy adoption and adherence.
Clarify's data science team has analyzed social risk data that includes 400+ sociodemographic, economic, neighborhood, and community attributes to identify the SDoH factors that will most help payers, providers, and life sciences organizations deliver higher quality, patient-centered care. These data also include critical behavioral attributes that are known to have a major impact on health and wellness, such as diet, activity level, smoking, mood, and life satisfaction.
By providing healthcare and life sciences with on-demand access to SDoH insights via software, we help them surface opportunities to provide assistance outside the clinical setting, which will ultimately have a greater impact on health outcomes, cost, and wellness.
A sample of the SDoH attributes in Clarify's dataset: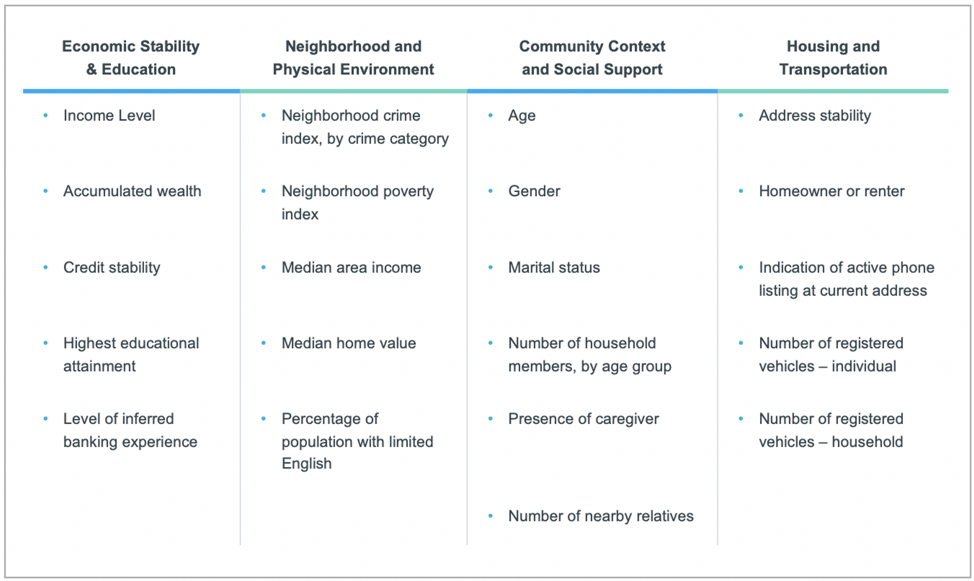 Real-world applications
Quality improvement and cost optimization programs can deliver great results. For instance, asthma is a condition that is aggravated by environmental factors such as household dust and secondhand smoke. Some hospital systems that care for patients with frequent visits to the ED for unmanaged asthma and symptoms, such as chest tightness, pain, and breathing problems, will deploy community health workers to the homes of these patients to identify and remove environmental factors that could be adversely impacting patient health. However, interventions like these require precise, actionable insights at the right time and strong partnerships with community-based organizations, community health workers, and case managers.
While it is widely understood that SDoH factors impact health, not all factors have the same utility in predicting health outcomes or personalizing care. The pathways between SDoH risk factors and health outcomes are complex and varied. With the right on-demand analytics, healthcare and life sciences organizations can get real with actionable SDoH insights to ensure the right intervention for the right patient at the right time. To learn how health plans, pharma companies, and health systems are leveraging Clarify's SDoH-enriched analytics and insights, check out the latest research paper diving into the meaning and potential of SDoH in healthcare.
Whitepaper: Next-gen applications of SDoH-decorated data
Additional content you may find interesting: