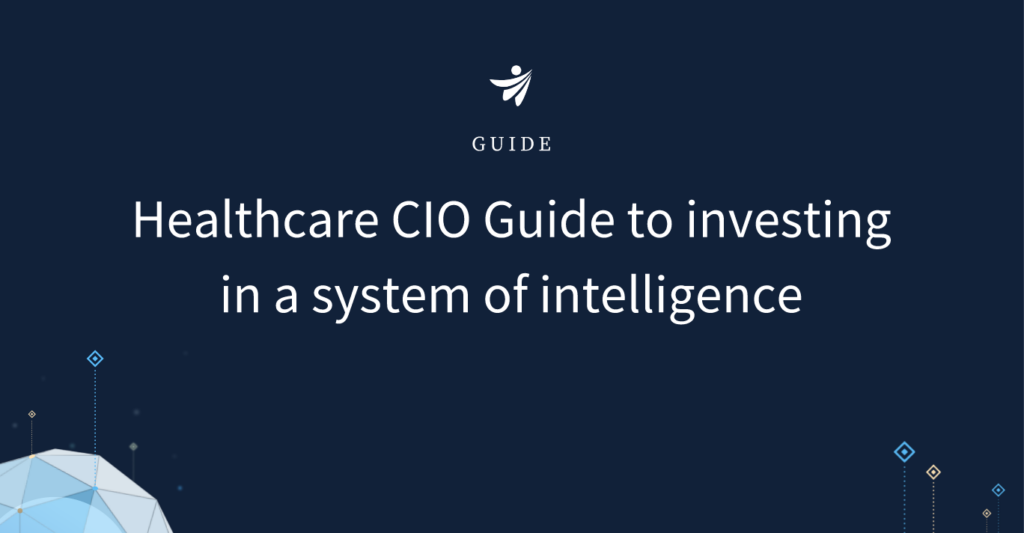 Healthcare is transforming — digital health demand has soared, healthcare consumerism is rising, and the COVID-19 pandemic has highlighted the need to bring sustainable financing to the forefront. Chief information officers (CIOs) are at the center of it all. Today, they face the challenge of preparing their organizations' infrastructure for the upcoming changes to healthcare delivery — and ensuring that it keeps up with shifts in technology advancements, standards, and preferences. Actionable insights are needed, now more than ever, to drive success. But disparate data sets and siloed systems have resulted in insights gaps across organizations, slowing decision-making and making it challenging to identify opportunities. Adopting the right enterprise analytics can drive strategic initiatives, empower better decisions, and improve downstream workflows.
As healthcare CIOs dedicate resources to better harness the power of their data, many are investing in a system of intelligence to leverage AI and machine learning enterprise-wide. A system of intelligence is a highly automated enterprise analytics platform that draws upon massive, longitudinal, patient-level datasets that can be queried to deliver actionable real-world insights in seconds to unlock analyses into a multitude of use cases across clinical and business areas. Adopting the right system of intelligence adds value to existing data, breaks down silos, and produces insights with greater precision.
The CIO's guide to investing in a system of intelligence provides information on how an automated, enterprise-wide platform can deliver actionable real-world insights for better outcomes. It provides an overview of the critical components of an AI system of intelligence.
Healthcare CIOs are embracing innovation and technology to support key decisions
As IT demands continue to climb in 2022, CIOs are preparing to implement major technological advancements. The pandemic rapidly altered consumer preferences, expanding the digital demand for healthcare. And CIOs are scaling digital health capabilities to meet these new demands for virtual care and digital therapeutics. Additionally, as healthcare organizations accelerate the adoption of value-based contracts, CIOs must support clinical leaders with actionable insights.
Getting more value from existing data is imperative for better outcomes. Leveraging enterprise analytics that offers interoperability and better information exchange across business and clinical areas can enhance existing IT investments. Moreover, as the adoption of value-based contracts rises, improving data architecture to integrate social determinants of health data is becoming a necessity.
The building blocks for a system of intelligence that delivers enterprise insights
Comprehensive insights are crucial to driving innovation, scaling value-based care, and prioritizing strategic initiatives. However, more data isn't always better—it can be a burden without the right automation to clean and enrich the data for actionable insights. There are crucial components that CIOs should assess when investing in a system of intelligence. Not all systems are created equal.
Large and comprehensive, patient-level data sets with extensive social determinants of health (SDoH) data, in addition to claims and clinical data mapping longitudinal patient journeys, are critical to enabling actionable insights. A standout enterprise analytics platform should also have an automated data cleaning and enriching process, flexible grouper technology, and machine learning and AI capabilities to deliver precision insights. Transparency is a must-have component to ensure the fairness and accuracy of insights. Many analytics on the market provide "black box" solutions that don't explain the methodologies used for insights and benchmarks. This lack of transparency makes it challenging to assess the methodology used to arrive at insights and predictions. Transparency in measures and benchmarks is important for value-based care and payments.
Enterprise analytics should deliver actionable insights that apply to multiple use cases. In addition, it should have ease of implementation, end-user configurability, and self-service capabilities. The following are critical components of a system of intelligence:
Large and comprehensive patient-level data mapping longitudinal patient journeys.
Comprehensive social and behavioral insights to deliver context and insights.
Platform automation for cleaning, organizing, and enriching data to deliver AI-Powered predictions.
Advanced grouper technology that assesses episode or patient risk generates provider and patient profiles and constructs longitudinal patient care journeys.
Transparent and provider trusted case-mix adjusted benchmarks and population health insights to ensure validity and optimal VBC outcomes.
Granular insights into clinical and operational processes.
Lightning-fast access to analytics with ease of implementation, end-user configurability, and self-service capabilities.
Read the CIO's guide to investing in a system of intelligence to learn about the critical components to consider when investing in an enterprise analytics platform.
About Clarify
The Clarify Atlas Platform is a provider trusted system of intelligence. It brings together one of the industry's largest, longitudinal, patient-level datasets, aggregating claims, electronic health records (EHRs), prescription, and social and behavioral data. Clarify's machine learning algorithms consume comprehensive data to generate precise insights to power better decisions, giving you the power to instantly test hypotheses and identify business opportunities.