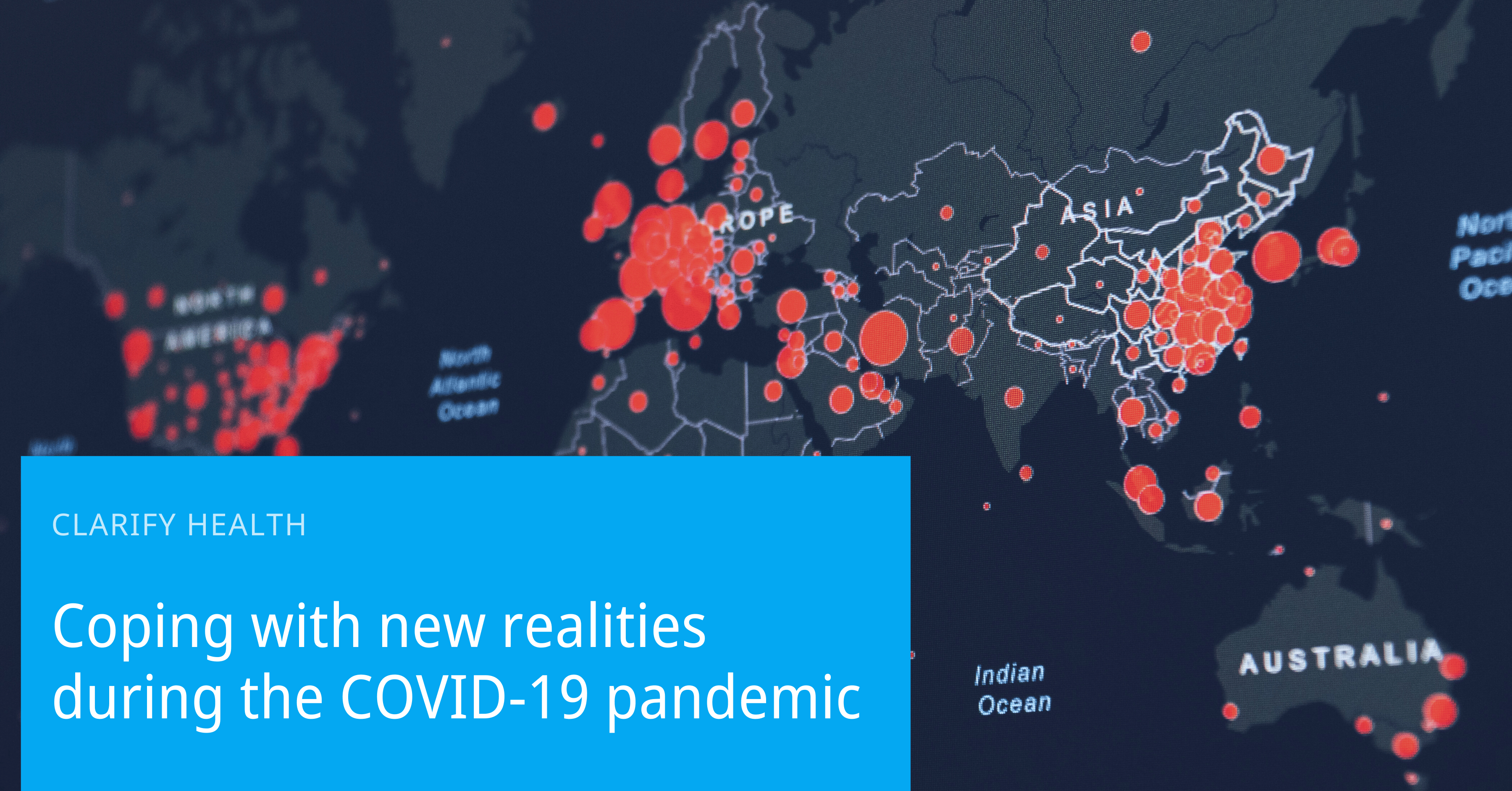 In a mere matter of weeks, our world has been engulfed in an entirely new set of circumstances: family, friends, and colleagues spread over greater distances; our healthcare system challenged by a highly transmissible, potentially fatal disease; and nations bracing for economic downturns. While these are uncertain times, at Clarify Health we remain clear and committed to protecting our team and equipping our customers with the analytics they need to fight this pandemic and transform care in our communities. Using the world's patient-level data to power better health and therapies remains our North Star, a mission that permeates every decision we make. Here's how Clarify is managing the outbreak internally and how healthcare analytics companies, including ours, can protect society:
Clarify's role in lessening the impact of COVID-19 begins with keeping our team safe. In early March we assembled a physician task force comprised of Clarify team members with MDs or related expertise to assess the situation and guide critical decisions. On March 12, 2020, we began working remotely, closing our three offices. We prioritized effective virtual communications to sustain a good, trusting, and nurturing working environment. Fortunately, virtual collaboration was already a part of our organizational muscle memory given we are spread across San Francisco, New York, and Beijing and have always had a flexible work-from-home policy in place to support the different needs of our team members.
Despite this, operating as a fully remote team 24/7 presents its fair share of challenges, but it has given us a renewed perspective on our company's five core values: empathy, trust, courage, humility, and learning. In the way we communicate, we are demonstrating new levels of empathy to one another and our customers in order to build trusting relationships. We also demonstrate a great deal of courage in how we tackle challenges accentuated by our current environment. Humility is critical as our lives now often play out in real-time on video calls (with kids home from school, spouses on interfering phone calls, etc.). Ultimately, we embrace this challenging time as an opportunity to learn and become better at what we do at Clarify.
Our profound appreciation is for those on the front lines of confronting this pandemic. We see great potential in the healthcare analytics industry's ability to support them in curtailing the spread of COVID-19. While manufacturers and governments rush to bolster hospital resources and capacity, Clarify's strength lies in its ability to turn healthcare's vast, messy data into actionable insights for individual hospitals, emergency services, and policymakers. We identified a few areas where we can leverage our platform by filling gaps in patient histories, understanding resource constraints (e.g., ICU beds), and proactively identifying at-risk populations. Today we are providing two off the shelf applications to:
Inform resource and capacity planning – As COVID-19 overwhelms the health system, understanding sub-populations that are more vulnerable to severe outcomes is critical for resource planning and allocation. Clarify's COVID-19 Elderly Vulnerability Population Index (EVI) allows agencies, emergency services, and hospitals to identify areas that will benefit most from increased testing, allocate resources efficiently, and act as early as possible. The EVI integrates medical and demographic data points to reduce blind spots of patient risk. These insights empower agencies and providers to more quickly identify segments of the population that are most susceptible to disease and to direct outreach appropriately.
Improve triage and care for patients – As patients with COVID-19 symptoms present at hospitals or emergency services, care providers need rapid access to patient history and risk factors at the point of care. This level of information will allow them to triage and plan care most effectively, especially for new patients for whom they have little to no prior medical (or social) history. Clarify's COVID-19 Patient Risk Profile delivers this via a web-based database that focuses particularly on highlighting risk factors for severe illness.
One of the three factors that CMS and state regulators identified in the tragic nursing home outbreak of COVID-19 in Kirkland, WA was a failure "to rapidly identify and manage sick residents." The same situation could have occurred at any care facility but it is also preventable. Our industry is full of a myriad of technology companies well-positioned to impact areas including disease management, patient engagement, digital health, analytics, and many more. We encourage our peers to increase collaboration with each other. By linking our disparate solutions and building on one another's skills, we will create even more powerful agents of change to prevent and overcome this disease and others like it.
The US and other countries can minimize spread and broader impacts of this outbreak by creating powerful, cross-industry alliances that leverage the best of our capabilities. In this unprecedented time, no single organization bears all the solutions and a one-size-fits-all approach does not apply. Clarify will continue to closely evaluate how to best protect its team, and we are ready to engage with our peers, healthcare professionals, and regulators to understand how our platform can better equip them to control and eradicate this disease.
To learn more about Clarify Health's approach and commitment helping curtail the COVID-19 outbreak, contact us at [email protected].