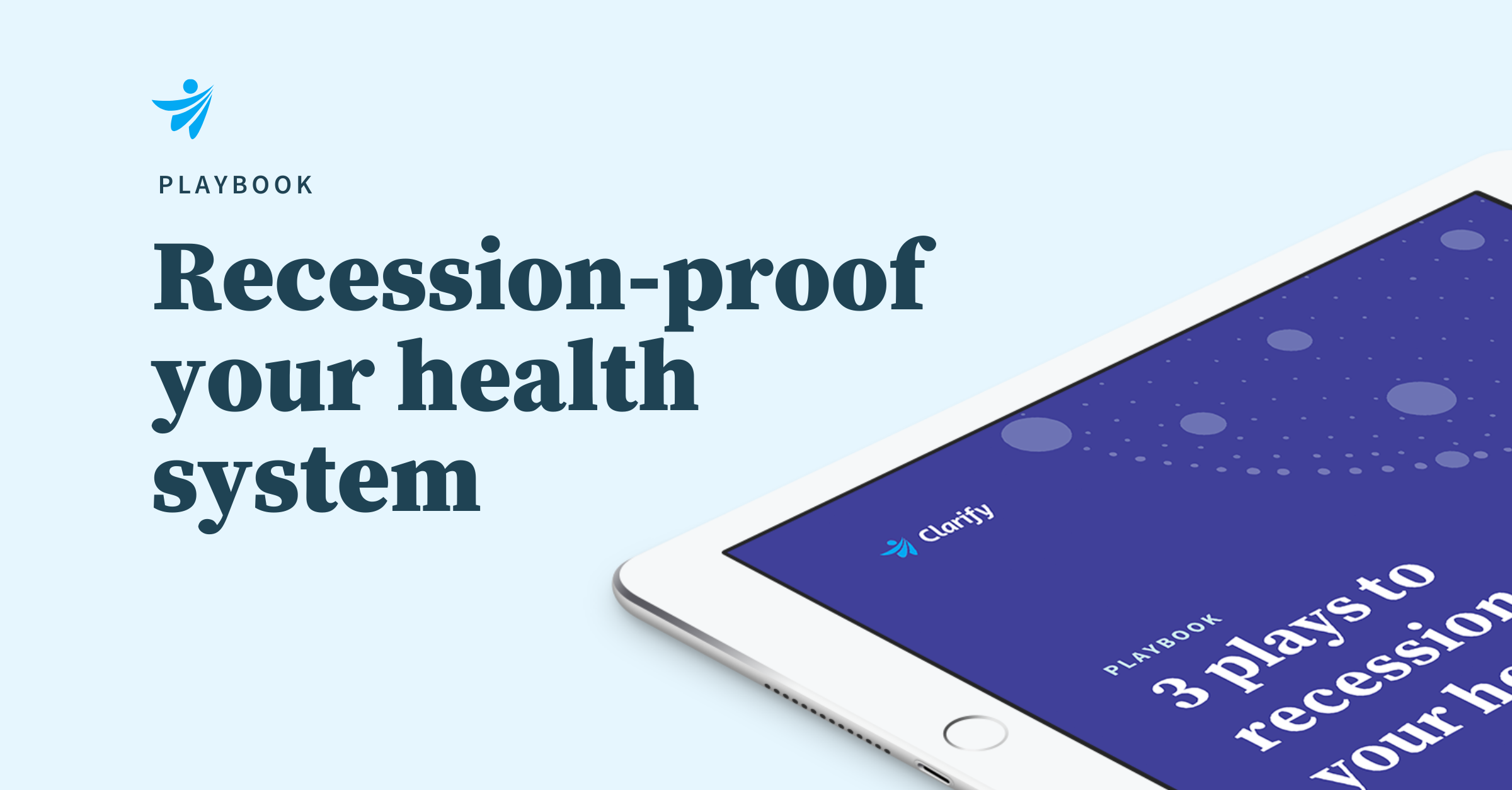 Key takeaway:
In order to remain competitive during an economic downturn, hospital executives need to prioritize specific levers of growth:
– Increasing market share on specific high-spend service lines
– Partnering with the right physicians that retain and capture the most volume in your market(s)
– Uncovering patterns in consumer behavior to ensure you're proactively meeting your patient's care expectations
Most hospitals entered 2022 with thinning margins, declining outpatient volumes, and no clear line of sight into recovering revenue. In the past, healthcare was considered a "recession-proof" industry, but as we continue to see the effects of labor shortages, global supply chain issues, and the recession are having on provider organizations today – it's clear that they are no longer as immune to economic downturns as we once believed them to be.
In order to stay ahead of the curve and future-proof your health system, strategy and business leaders need to re-assess which levers to pull in order to be hyper-focused on growth and offset any revenue at risk. With this in mind, we gathered market feedback from dozens of health system strategy leaders to develop this playbook on the top 3 plays you can use to recession-proof your hospital, going into 2023 and beyond.
1. Grow market share and understand patient flow with inpatient/outpatient visibility
With big players like Amazon and Google entering the healthcare space, any hospital/health system that wants to stay competitive in their market needs to be equipped with analytics that will allow them to quantify market share across all settings of care and granularly analyze their competitive positioning. Having real-time data on things like service line-specific market share, payer mix, and utilization trends can better inform your hospital growth strategies and strengthen your market positioning as competition continues to heat up.
2. Identify and prioritize physicians to engage, affiliate with, or acquire
It's critical to cultivate strong relationships with local physicians when looking to retain and capture more volume in the market. However, hospital strategy teams often uncover gaps in market intelligence and referral data, making it challenging to assess which providers will make the best partners. With significant volume shifting to ASC's, hospitals now have even less complete data on patient journeys. Once strategy teams are able to understand the potential referral channels into their system, they can generate physician lists to identify growth areas and prioritize engagement efforts in an actionable way.
3. Understand consumer demand in your service area to attract and retain more patients
Meeting the needs of your community is paramount to your hospital's long-term success as patients demand more sophisticated, convenient, and transparent care. When you have the right data on things like high/low spend patient cohort behavior, you can visualize how consumers move through the healthcare system, where they go, and when. As a result, your marketing, messaging, and services can flex to meet your patients where they are on their individual care journey.
Over the past ten years, we've seen the dynamic between patients, health systems, and health plans change as consumer preferences shift, providers consolidate, and high-deductible plans rapidly increase in popularity. These changes have trickle-down effects on consumer healthcare habits that can not be dismissed or left out of your 2023 strategy. In order to combat the ever-increasing challenges of delivering on higher margins, greater patient volumes, and more affordable care, hospital executives need to make the right investments today.
Download our playbook, "3 plays to recession-proof your health system" to learn more about how you can enable your organization to thrive in uncertain times.