While COVID-19 has brought health inequities to the forefront, they have persisted in America for decades, from clinical research to the point of care. To advance equity in clinical research, the U.S. Food and Drug Administration (FDA) released guidance entitled, Enhancing the Diversity of Clinical Trial Populations — Eligibility Criteria, Enrollment Practices, and Trial Designs Guidance for Industry. By enrolling participants with a wide range of baseline characteristics, study populations will more accurately reflect the patients likely to take the drug if it is approved. In this blog, we take a close look at health equity in oncology trials specifically, assessing how the lack of diversity and inclusion has impacted cancer patients and the pharma industry's key initiatives to address it.
Health inequities in oncology clinical trials
In 2020, nearly 5,000 patients participated in clinical trials for 18 newly approved oncology drugs, however, the FDA reported that a disproportionate percent of those participants were White. In fact, 73% were White, 14% were Asian, 6% were Hispanic, and 5% were African American. Cancer patients treated in clinical trials live substantially longer than those not treated in trials and benefit from lower hospital readmissions. However, another study found that 0.1% of patients are enrolled in clinical trials for first line cancer therapies and enrollment favors young, healthy, white patients with metastatic disease, private insurance, and access to be treated at academic medical centers.[1]
In yet another study of oncology outcomes for 41,109 patients who participated in phase 2 and phase 3 trials from 1985 to 2012, participants from areas with the highest socioeconomic deprivation had worse outcomes compared with those from affluent areas for overall survival, progression-free survival, and cancer-specific survival (Figure 1.).[2]
Figure 1. Median Overall Survival for Patients with Top 10 Tumors Types:  Enrolled in Trials vs. Not Enrolled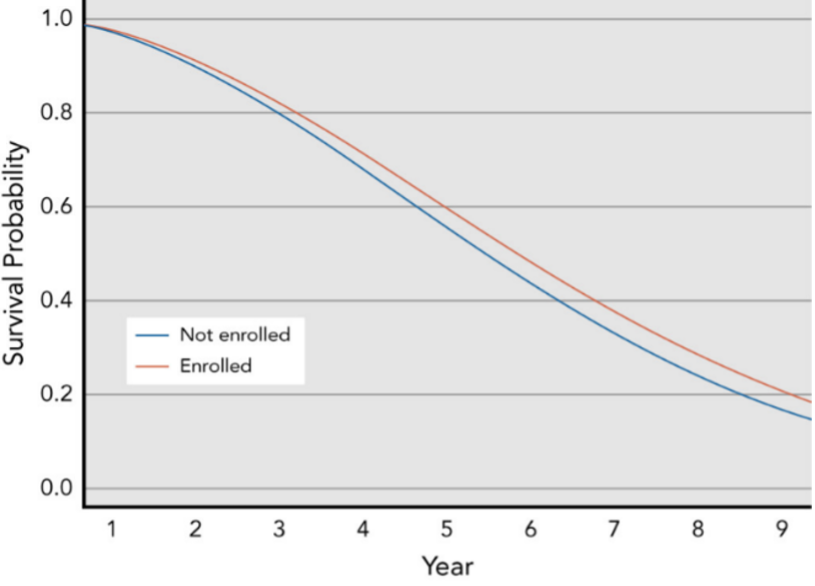 Given this historical backdrop, the FDA and leading biotech and pharmaceutical manufacturers have taken initiatives to ensure:
representative clinical trial recruitment that reflects the broader US patient population and
equitable access to therapies and vaccines.
Initiatives to drive diversity and inclusion in oncology clinical trials
Several government funded initiatives are focused on driving diversity and inclusion in oncology clinical trials. Project Equity is a public health initiative established by the FDA's Oncology Center of Excellence (OCE) to ensure that data submitted to the FDA for approval of oncology medical products adequately reflects the demographic representation of patients for whom the medical products are intended.
Societies and professional groups have also charted plans for overcoming socioeconomic disparities.  Figure 2 shows the American Medical Association's first strategic plan dedicated to embedding racial justice and advancing health equity.
Figure 2. The American Medical Association's 2021-2023 Organizational Strategic Plan to Embed Racial Justice and Advance Health Equity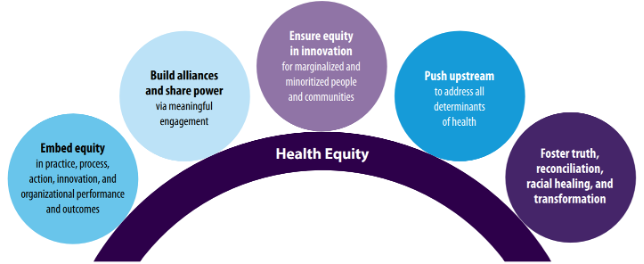 In February 2021, the American Society of Clinical Oncology (ASCO) and Friends of Cancer Research issued new recommendations in five specific areas to broaden oncology trial eligibility criteria to include minorities. They made recommendations regarding treatment washout periods, concomitant medications, prior therapies, laboratory reference ranges and test intervals, and patient performance status.
With the myriad of guidance and recommendations to boost diversity and inclusion in oncology trials, , biotech and pharmaceutical manufacturers are left to interpret the criteria and implement them through tangible action. To overcome conscious or unconscious biases from the past, life sciences companies cannot only rely on data from the past to inform clinical trial protocols, site selection, and patient recruitment. Actualizing the vision will require sponsors, vendors, and the entire industry to partner in their efforts and leverage real-world data (RWD) to power these much needed advancements.
Kenneth Park, Senior Vice President of Life Sciences at Clarify Health, has pointed out that a more comprehensive approach is needed: "If we are simply resurfacing historical trials data, one would be repeating historical performance, at best.  Today we need to bridge the gap from the past by redefining patient eligibility criteria with a more inclusive framework – using all patient signals available through past and current medical, clinical, pharmacy, demographic and other social determinants of health signals to generate with speed a representative patient population for a therapy's indication."
Clarify delivers on-demand RWE and SDoH insights for oncology clinical research
Clarify's cloud-based real-world evidence software for life sciences companies can boost diversity and inclusions in clinal trials by supporting site selection and patient recruitment with social and behavioral determinants of health (SDoH)-decorated patient journey insights. Clarify launched its real-world evidence on health disparities in 2021. The solution delivers instant access to precision insights on patient cohorts, healthcare providers, and market intelligence, which draw upon data from over 300M patient lives, including de-identified government and commercial claims, clinical, prescription and dispensing, and SDoH data at the patient-level. It gives life sciences companies the unprecedented ability to explore and understand how patients' journeys, treatment decisions, and outcomes are impacted by non-medical factors such as race, income, transportation access, housing stability, education level, health literacy, and propensity to exercise. Learn more about how Clarify supports the real-world application of SDoH insights here.
[1] Zaorsky NG, Zhang Y, Walter V, Tchelebi LT, Chinchilli VM, Gusani NJ. "Clinical trial accrual at initial course of therapy for cancer and its impact on survival." J National Comprehensive Cancer Network.  2019;17(11):1309-1316. doi:10.6004/jnccn.2019.7321
[2] Unger JM, Moseley AB, Cheung CK, et al. "Persistent disparity: socioeconomic deprivation and cancer outcomes in patients treated in clinical trials".  Journal of Clinical Oncology. 2021;39(12):1339-1348. doi:10.1200/JCO.20.02602