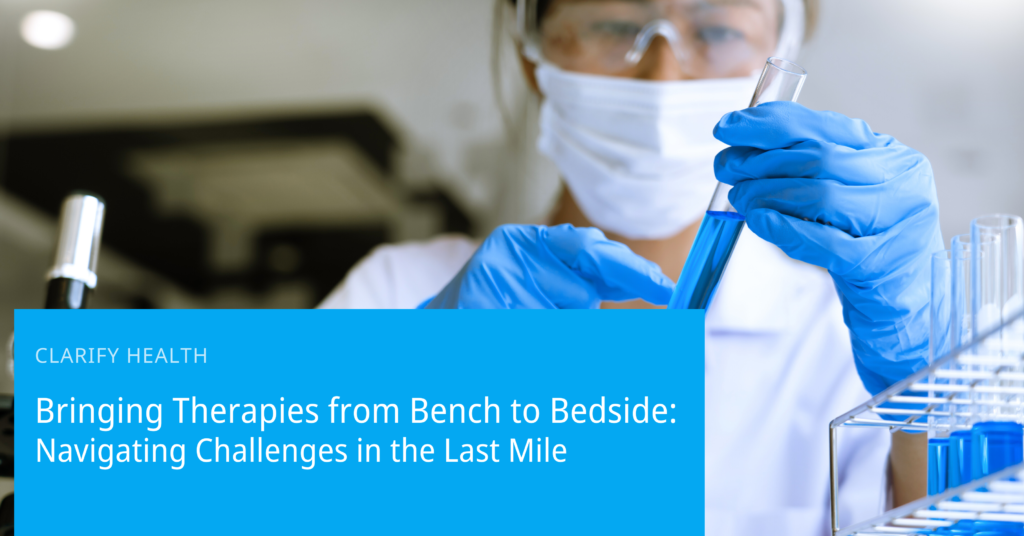 Imagine your company was presented with an investment opportunity. The proposition: commit several hundred million dollars over 10-12 years for the potential to make billions of dollars annually for the following decade. The catch: there is a ~95% chance that you could lose everything. What would you do?
Most companies would run in the other direction, let alone create an entire business around this investment model. Yet, without the biopharmaceutical industry committed to facing these odds, the innovative, life-saving therapies available to us today would not exist. Each drug on the market started off as an idea that successfully overcame many hurdles while thousands (and sometimes millions) of other potential therapies failed along the way. The time-consuming and resource-intensive path from the lab bench to the patient bedside starts with drug discovery, progresses to pre-clinical and clinical research, and then enters regulatory review. After FDA-approval comes the last critical mile of this journey: bringing the product to market.
Successfully launching a new product is no easy feat in the life sciences industry; up to 66% of newly launched drugs fail to meet market expectations within their first year. Performing well requires careful coordination across several functions to ensure favorable market access, differentiated product positioning, and appropriate sales force deployment. What's more, there is a lot at stake. Any misstep in terms of pricing, reimbursement, or marketing could mean delays in providing therapies to the patients who need them most. There is also a looming, time-sensitive reality that biopharma companies face once their products hit the market: they need to recoup the costs of development as quickly as possible before drug patents expire and generics threaten sales. The estimated cost of bringing a single drug to market is between $1-3 billion if we also consider lost investments in drug candidates that failed. Finally, a new product's commercial performance during its first year on the market typically determines how it will perform in subsequent years. So, no pressure…
Rethinking brand launch and adoption cycles
Now, amid a global pandemic with no clear end in sight, the launch process has become even harder. Customer conversion and product uptake have largely depended upon live interactions between treating physicians and biopharma representatives (e.g., sales, medical science liaisons, etc.). However, it remains to be seen how productive marketing and field teams can be through remote digital channels, especially with physicians of all specialties being called to the front lines to treat COVID-19. As healthcare providers (HCPs) are re-deployed to care for COVID-19 patients, many chronically-ill patients will have less frequent follow-up with their doctors. Furthermore, all patients, and especially those who are most vulnerable to severe outcomes from the virus, may be less willing or able to travel to the doctor's office for non-COVID-related medical concerns. A decrease in patient-physician interactions will reduce rates of new diagnoses, both new and refill prescription volumes, and patient compliance with HCP-administered products. Biopharma brand teams will need to adjust their expectations around product adoption in light of this new normal.
Understanding the patient beyond their clinical history
To determine how to adjust their go-to-market strategies, brand teams should start by asking questions about the patient first. Which patients are most vulnerable to severe outcomes from COVID-19?  Which physicians see these patients? Beyond age and pre-existing medical conditions, what other characteristics put patients at risk?
We know that clinical history is only a piece of the puzzle—social determinants of health (SDoH), including factors beyond the purview of traditional healthcare measures such as income, employment status, education, and home ownership, drive upwards of 70% of health outcomes. Outside of the frail and elderly, high-risk patients could also be those who are unable to reliably practice social distancing because of crowded living conditions, inability to stay home if they are essential service workers, and/or the need to take public transportation regularly. In fact, these realities are contributing to the virus's disproportionate impact on minority communities in the United States. While the biopharma industry has ample access to claims and prescription data, there has not historically been a reliable way to incorporate SDoH data to paint a more complete picture of the patient story.
Visibility into target patient and physician experiences is crucial to go-to-market planning. However, one of the leading reasons that biopharma products miss commercial expectations is an insufficient understanding of the drivers behind physician treatment recommendations and patient choices. As a former consultant to biopharma launch teams, it is not challenging for me to see why this is the case—I became intimately familiar with the difficulty of generating accurate insights for my clients by mining raw, messy, and fragmented datasets. The most striking lesson I learned was that brand teams too often make critical strategic decisions based on a patchwork of incomplete, disjointed views of the market.
As part of the Clarify Health team, I am excited to help biopharma companies develop a more holistic understanding of the patient journey. Through our life sciences software, customers can define, size, and locate specific patient cohorts by selecting from an extensive library of characteristics that spans claims, lab and genomic testing results, and even SDoH. This flexibility empowers brand teams to test hypotheses on the fly, enhancing the work of internal analytics and market research functions. In addition, customers can optimize their targeting and outreach efforts by prioritizing physicians based on their patient panels, prescribing behavior, and affiliated sites of care. Brand teams are now able to keep their finger on the pulse of the market and plan accordingly to maximize impact during launch and beyond.
Our team is constantly learning from our customers and tirelessly brainstorming the best ways to enhance our offering. When customers come to us with unmet needs that no one else has been able to address, we remember why we do what we do. We are fully committed to taking on the toughest challenges alongside our customers who fight the odds every day to create vital products for patients in need—especially now.
Embracing those difficult odds is core to our ethos at Clarify. We do what we do because it is hard. The most difficult goals are the ones most worth fighting for.