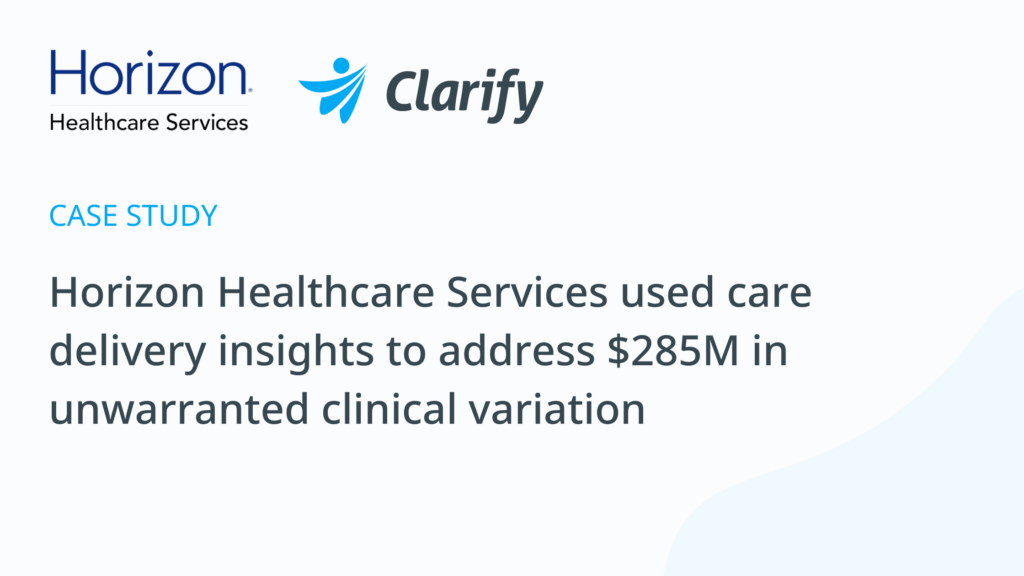 Unwarranted clinical variation is costly for both health systems and payers. In order to address this, both health plans and providers need to access trusted insights with transparent, case-mix adjusted benchmarks that evaluate provider performance and pinpoint the influential factors that impact those values. Without that trust, physicians are skeptical of the data and unlikely to change their behavior.
Horizon Healthcare Services aims to drive success in shared savings programs by enabling their providers to improve care delivery using key performance insights that they not only trust but can act on. However, prior to deploying Clarify's analytics, information sharing was a manual process, with physical reports going out to providers on a monthly and quarterly basis. Although Horizon introduced automation and significantly increased the amount of data being distributed, they were still unable to give providers the depth of information and granular details necessary to enable action. 
To fill this gap and eliminate the "black box" traditionally associated with performance insights, Horizon began using Clarify's insights software to share intelligence directly with their providers so they could prioritize opportunities to improve care delivery and ensure success in value-based contracts. With Clarify Care, the cloud-based analytics software product that identifies unwarranted clinical variation across the continuum of care, Horizon and their provider partners are able to leverage the industry's most precise provider performance benchmarks to identify trends in performance and take action to improve care delivery. 
With Clarify, we're not only being transparent with our provider partners and helping them to see the big picture of how they're performing, but we can pinpoint specific intervention opportunities regardless of where the care encounter happened. I think that's exciting.

Lisa White, Director of Value-Based Partner Transformation, Horizon Healthcare Services
Read the full case study to learn more about Horizon's success.